UDaily is produced by the Office of Public Relations
The Academy Building
105 East Main St.
Newark, DE 19716-2701
(302) 831-2791

Collector Paul Jones awarded honorary degree at New Student Convocation Aug. 30
Click here for photo album.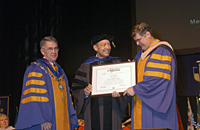 Paul R. Jones (center) accepts an honorary doctor of humane letters degree from President David Roselle (left) and Howard E. Cosgrove, chairman of UD's Board of Trustees.

6:56 p.m., Aug. 30, 2004--University of Delaware benefactor and world-class art collector Paul R. Jones challenged members of the Class of 2008 to join together in forging "a powerful alliance, and a force for positive change."

Jones, who received an honorary degree from UD, made his remarks to the 3,469 freshmen and 577 transfer students at the New Student Convocation on Monday, Aug. 30, in the Bob Carpenter Center.

"I wish for each of you an adventure as grand and glorious as the one I've had and am continuing to enjoy," Jones said. "There is a Greek phrase, 'There is no possession more valuable than knowledge.' So, today, I urge you—in your years at Delaware—to focus on learning, contributing as you focus on friendship and fairness, caring and love."

One of the America's most important collectors, Jones has amassed a collection of more than 1,500 pieces of African American art. Housed in the newly renovated Mechanical Hall, the core of the Paul R. Jones Collection includes works by such noted artists as Charles White, Herman "Kofi" Baily and Selma Burke, who created the image of Franklin Delano Roosevelt that appears on the dime. Other artists in the collection include David Driskell, Elizabeth Catlett, Early Hooks, Leo Twiggs, Stanley White, Jacob Lawrence, Romare Bearden and P.H. Polk.

A major exhibition of 101 works drawn from the collection of the Atlanta-based collector, "A Century of African American Art: The Paul R. Jones Collection," opens Wednesday, Sept. 8, and will continue through June 1 at UD. A grand opening celebration will be held Nov. 11-13.

"We are pleased that members of the Class of 2008 are here and can visit the first major exhibition of the Paul R. Jones collection," UD President David P. Roselle said. "I hope that you all, as you begin your journey at the University of Delaware, will take note of what can be achieved if your life is marked by enthusiasm, passion, focus and love."

In conferring the honorary degree, Howard E. Cosgrove, Chairman of UD's Board of Trustees, said, "Over the years, you have become a well-recognized, highly respected and greatly admired member of our campus community. You have been an ardent advocate for the University of Delaware in settings across the country. You have mentored UD students to higher levels of achievement, and you have worked with faculty to strengthen options for students. You have enhanced the intellectual life of the UD community, our state and the nation by generating a greater appreciation of African American art and culture. The Paul R. Jones Collection has served as a means by which the University of Delaware can demonstrate the true richness and meaning of diversity on our campus and in the world."

Also attending the Convocation ceremonies was Audrey Forbes Manley, president emeritus of Spelman College in Atlanta. In 2001, UD and Spelman College signed an historic partnership agreement to create educational opportunities for students and faculty in conjunction with the Paul R. Jones Collection. Dr. Manley received an honorary degree from UD at New Student Convocation in 2002.

In reflecting on being awarded an honorary doctor of humane letters degree, Jones, who gave his collection to UD on Feb. 14, 2001, told students about the importance of having a dream and letting that dream shape one's life, marking what is important and what is not.

"To realize that a dream is coming true is an even more wonderful thing—to see the Paul R. Jones Collection become a prized and valued body of work that is being digitized, exhibited, shared and studied at an institution of higher learning as special as UD makes that achievement particularly noteworthy," Jones said. "To be recognized for having a dream and working to achieve it is the most wonderful thing of all. I am pleased and humbled by this recognition today, and I am particularly happy to have had it presented in the presence of young people who are just beginning their latest adventure in life and fashioning their dreams for themselves and the future."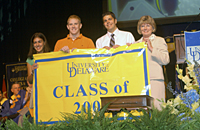 Patricia McCall DiPinto (right), Class of 1954, presents the Class of 2008 flag to (from left) to freshmen Katelyn Ruiz and Darren Mooney, with assistance from John Cordrey, president of the Delaware Undergraduate Student Congress.

The honorary degree presented by Cosgrove represents the latest in a series of awards received by Jones. In August 2002, Jones was named an honorary scholar in the McNair Post-Baccalaureate Achievement Program. Administered by the U.S. Department of Education at more than 156 universities and colleges nationwide, the Ronald McNair Program is named for the second African American in space, who died aboard the space shuttle Challenger in 1986.

Recalling his experiences as mentor and friend to UD students, Jones told the Class of 2008 that a UD education "provides you with not just an opportunity to connect with the past, nor just a chance to better understand the present, but importantly, an opportunity for shaping the future."

In recalling the words of renowned opera singer Leontyne Price, who once remarked that "Accomplishments have no color," Jones said that for many artists being included in the Paul R. Jones Collection has meant an opportunity to receive tremendous exposure by having their works featured in nationwide exhibitions.

"I decided to focus on those artists—to give their artwork exposure and, hopefully, to influence in a positive way their futures," Jones said. "I wanted to see the art world weave African American art into the fabric of American art, with the desired results of art historians writing about it, scholars and students studying it and the art-loving public enjoying and appreciating it," Jones said. "I wanted to see African American artists receive their due recognition at auction houses like Christie's and Southeby's."

In trying to decide upon a permanent home for a collection that had grown from less than 100 to more than 1,500 works of art, Jones recalled looking around the country and finally settling on UD. He cited UD Museums, the Departments of Art History, Art Conservation and Fine Arts and Visual Communications, as well as the Black American Studies and Museum Studies Programs as influential in his decisions.

"I have been very, very interested in seeing a new era of education in this new century, education that is marked by a collaboration of a university of the size, status and prominence of UD with historically black colleges and universities," Jones said. "That collaboration has begun and will continue to grow."

Jones also acknowledged the contributions of many individuals, singling out UD President David P. Roselle, whom he described as instrumental in bringing the Paul R. Jones Collection to UD.

"I am very pleased to know Dr. Roselle, and I am honored to call him my very good friend," Jones said. "He is a man who makes things happen, brings people together, sees into the future while understanding the past. I'm deeply grateful for all he has done for me, and for the Paul R. Jones Collection and for the University of Delaware."

He said, "President Roselle, you yourself are a work of art," which drew a round of applause from the students. They also gave Jones a standing ovation after his remarks.

A brief video featuring works from the Paul R. Jones Collection, produced by University Media Services, also was shown.

Roselle used the Convocation as an opportunity to welcome the new class, including nine sets of twins.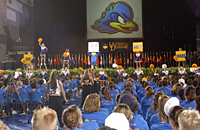 Members of the Class of 2008, clad in blue T-shirts, are introduced to Blue Hen fever by the UD cheerleaders.

To see a statistical profile of the Class of 2008, click here.

Roselle, who reminded students that Convocation represented the last time they would be together as a group until their graduation in 2008, urged them to take advantage of the outstanding faculty and research facilities at UD.

"I extend my best wishes and congratulations to you as you begin your journey today," Roselle said. "Good luck to each and every one of you."

John Cordrey, a member of the Class of 2006 and president of the Delaware Student Undergraduate Student Congress (DUSC), also welcomed new students, and urged them to get involved in student organizations during their time at UD. Patricia McCall DiPinto, a member of the Class of 1954, presented the Class of 2008 flag to freshman representatives Darren Mooney of Newark and Katelyn Ruiz of Trumbull, Conn.

Freshman Brandon Langer, an applied music major from Lincoln, Neb., led the singing of the national anthem and the alma mater.

After the official ceremony, a pep rally was held for the freshmen that included the inaugural appearance of Air YoUDee, the latest addition to the UD mascot team, as well as the University's award-winning Dance Team, Cheerleading Team and Marching Band. Master of ceremonies was Mike Corey, who is the voice of Blue Hen football on The River (94.7 FM).

The pep rally also featured appearances by UD varsity coaches, including head football coach K.C. Keeler, who urged members of the Class of 2008 to support the Fightin' Blue Hens by turning out for the season opener against New Hampshire at 7 p.m., Thursday, Sept. 2, at Delaware Stadium, wearing the new Blue Hen Fever T-shirts that were passed out before Convocation ceremonies.

Keeler also presented a high-energy video presentation highlighting the Fightin' Blue Hens 2003 NCAA I-AA national championship season. The video featured loyal Blue Hen fans, who turned out to watch the action on Tubby Raymond Field in Delaware Stadium and on the road.

"We have the greatest fans in the nation," Keeler said.

Article by Jerry Rhodes
Photos by Duane Perry
E-mail this article
To learn how to subscribe to UDaily, click here.