Administrative changes announced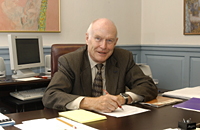 T.W. Fraser Russell

9 a.m., Aug. 23, 2004--Three members of the University faculty will take on new roles Jan. 1, Provost Dan Rich has announced.

T.W. Fraser Russell, vice provost for research, will begin a yearlong sabbatical, and Carolyn A. Thoroughgood, dean of the College of Marine Studies will serve as acting vice provost for research for a year. Nancy M. Targett, professor of marine studies, will become acting dean of the College of Marine Studies.

"We all owe Fraser Russell a great debt for his outstanding leadership of the Office of the Vice Provost for Research and for his many contributions as a key member of UD's academic leadership team," Rich said. "I am delighted that Carolyn Thoroughgood has agreed to take on this important position and to sustain our continued improvement in research productivity and scholarly standing. Finally, I have great confidence in Nancy Targett and her abilities to lead the college she has served so well as a faculty member for 20 years."

University President David P. Roselle said, "These three individuals have given much to the University. I am happy that Dr. Russell will be able to concentrate on his research interests during his sabbatical after such a fine record of administrative service. Dr. Thoroughgood has accomplished much in the College of Marine Studies, and I very much look forward to the insights and resources she will bring to the Office of the Vice Provost for Research. Finally, as a talented and respected scientist, Dr. Targett has already made a mark nationally in her profession, and I know the leadership of the College of Marine Studies is in good hands."

"I strongly believe that it is critical to the efficient operation of the University that there be an exchange of personnel among the various academic units and the central administration in Hullihen," Russell said. "It is for that reason that I accepted the position of vice provost five years ago. I thought at that time that it would for only be for about a year. It turned out to be much longer, but it has been a very rewarding experience and I have greatly enjoyed working with the people in OVPR. They are a dedicated, hard-working group. I believe the appointment of Dean Thoroughgood brings to the position the experience gained from managing a college and will further encourage the exchange of personnel between the central administration and the academic units."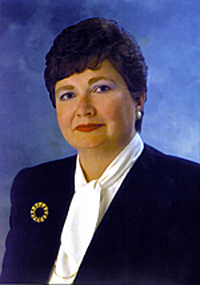 Carolyn Thoroughgood

Thoroughgood said, ""I have thoroughly enjoyed my 20-year tenure as dean of the College of Marine Studies and director of the Delaware Sea Grant College Program. I am now looking forward to this opportunity and building upon Dr. Russell's many accomplishments as vice provost for research. Since CMS is a graduate-only college, research is central to all our activities. I hope that my experience as dean of a research-oriented college will help me, working with others, advance the process of discovery at the University of Delaware."

"At CMS, Carolyn Thoroughgood has done an excellent job elevating the visibility of our program in the national arena," Targett said, "and I look forward to building upon her successes. For me, change is exciting and it is always an opportunity for growth. So, I am looking forward to the opportunities and challenges associated with my new position."

T.W. Fraser Russell
Russell, who is Allan P. Colburn Professor of Chemical Engineering, has been a member of the UD faculty since 1964. From 1979-96, he served as director of UD's Institute of Energy Conversion, a laboratory devoted to thin-film photovoltaic research. He also chaired the chemical engineering department from 1986-91, was associate dean of the College of Engineering from 1974-77 and served as acting dean of the college from 1978-79.

He earned his bachelor's and master's degrees in chemical engineering from the University of Alberta before receiving his doctorate in chemical engineering from UD. He served as a research engineer with the Research Council of Alberta and as design engineer with Union Carbide Canada.

His research efforts are directed toward semiconductor reaction and reactor engineering and the study of multi-phase fluid mechanics with application to the design of both photovoltaic and chemical process equipment. He holds five patents, is the author of numerous technical publications and co-author of two chemical engineering texts.

Russell has received the University's excellence-in-teaching award and its Francis Alison Award as an outstanding member of the faculty, the American Chemical Society's Leo Friend Award, the American Society for Engineering Education Chemical Engineering Division Lecture Award, the American Institute of Chemical Engineers Award in Chemical Engineering Practice and the Thomas H. Chilton Award. He is a member of the National Academy of Engineering and a fellow of the American Institute of Chemical Engineers.

Carolyn A. Thoroughgood
Thoroughgood joined the UD faculty in 1968 as a nutritional biochemist and has been both the dean of Marine Studies and Sea Grant director since 1984. In addition to her academic and administrative duties on campus, she serves on numerous science councils, associations, and professional societies at the state to national levels.

She helped organize the Council on Ocean Affairs, a national organization of marine academic institutions that evolved into the Consortium for Oceanographic Research and Education. She recently completed her second term as chair of the consortium's board of governors.

She also is the principal investigator on a recently funded proposal to create the Mid-Atlantic Regional Association Coastal Observing System. This regional network will be part of a national marine forecasting system for phenomena ranging from coastal storms to harmful algal blooms.

In 2002, she was named to the Science Advisory Panel of the presidentially appointed U.S. Commission on Ocean Policy, and earlier this month, she was appointed to the Science Advisory Board of the National Oceanic and Atmospheric Administration (NOAA), a group of preeminent scientists, engineers, educators and science policy experts from across the United States.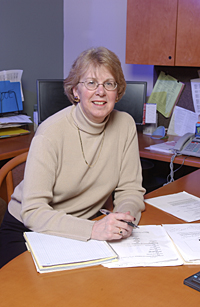 Nancy M. Targett
Nancy M. Targett
A marine chemical ecologist, Targett has been on the UD faculty since 1984 and is based at the Hugh R. Sharp Campus in Lewes. She conducts research on how chemistry mediates interactions between marine organisms in habitats ranging from coral reefs to the Delaware Bay. Currently, she is working to develop an artificial bait that mimics the chemical attractant found in the horseshoe crab—Delaware's state marine animal—to minimize the crab's use as bait in the eel and conch fisheries.
Targett recently completed a five-year appointment as associate dean of the College of Marine Studies and a six-year appointment to the Mid-Atlantic Fishery Management Council. She served as associate editor of the Journal of Chemical Ecology for three years and remains a member of its editorial board, and she is a lifetime member of the International Society of Chemical Ecology.
In 1999, she was selected as a fellow of the Aldo Leopold Leadership Program. Sponsored by the Ecological Society of America, the program teaches environmental scientists how to become more effective communicators of scientific information to the public. In 2003, she was named a National Associate of the National Academies in honor of her "extraordinary service" to the institution.
E-mail this article
To learn how to subscribe to UDaily, click here.