UDaily is produced by the Office of Public Relations
The Academy Building
105 East Main St.
Newark, DE 19716-2701
(302) 831-2791

Academy Building receives TLC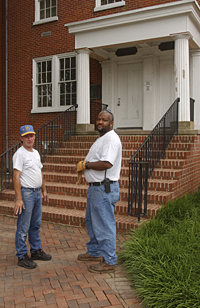 UD carpenters Lester Haynes (left) and Randy Raye pause after taking down scaffolding that surrounded the Academy Building portico. David Kalb led the carpentry crew, which also included Tommy Craig, that did the restoration work.

10:24 a.m., July 21, 2004--Maintaining and preserving irreplaceable historic buildings on campus is an ongoing project at UD. One of the oldest and most distinctive is the Academy Building at 105 East Main St., which originally housed the Academy of Newark, "the parent of the college that became a university," according to John Munroe, H. Rodney Sharp Emeritus Professor of History, in his book, The University of Delaware: A History.

Recently, work was done on the portico of the Academy Building, which is listed in the National Register of Historic Places. According to Mark Golden, structural services manager who supervised the project, it was noticed that the portico roof was sagging and that there was dry rot. Further investigation revealed there were no beams to support the portico roof. Carpenters took out the old wood, supported the roof and then installed beams across the front and back to the pilasters. They also covered the tops of the two front columns with copper to prevent moisture from seeping in.

In keeping with the historic preservation mandate, the columned, flat-roofed portico looks as it did in early drawings from the mid-19th century.

The history of the Academy Building reflects the history of the University of Delaware. Sometime before 1770, according to Munroe, a large classroom building for 80 to 100 boys attending the Academy of Newark was constructed where the Academy Building now stands.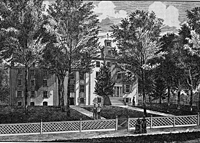 An engraving of the Academy Building, circa 1872
Courtesy of the University Archives

By 1839, the old building was thought to be beyond repair, and two buildings were constructed using some material from the old and opened in 1841 to house younger academy students, separating them from older students at Newark College. The two buildings were joined into one in 1872. In 1889, as public high schools became more common, the trustees closed the academy and rented the building to Newark public schools, and it became a high school.

The building took on several roles after Newark High School was built in 1925, serving as a library, meeting place and town hall. When the Newark Municipal Building was constructed on Elkton Road, the academy trustees presented the Academy Building to the University in a formal ceremony on July 14, 1976, according to Munroe's book.

The University renovated the building and restored many of its original features. The building housed University Development for many years and now is home to the Office of Public Relations.

Article by Sue Moncure
Photo by Kathy F. Atkinson
E-mail this article
To learn how to subscribe to UDaily, click here.