UDaily is produced by the Office of Public Relations
The Academy Building
105 East Main St.
Newark, DE 19716-2701
(302) 831-2791

Water resources internship deadline March 25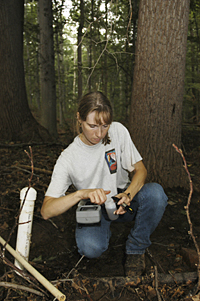 Senior Carol Carlson monitors wetland health.

10:32 a.m., March 2, 2005--The Delaware Water Resources Center at UD celebrates the fifth year of its successful undergraduate water resources internship program, which has supported over 40 projects to date with a current stipend of $3,500. Deadline for applications for 2005-2006 internships is Friday, March 25.

Students in the program generally work full time for 10 weeks during the summer, as well as working additional hours during the fall and winter to meet the demands of individual projects.

Interns also must submit a written report on their projects and participate in a poster session at an undergraduate research conference in the spring of 2006.

With the exception of students graduating in the spring of 2005, the internship program is open to undergraduate students at any institution of higher learning in the state of Delaware.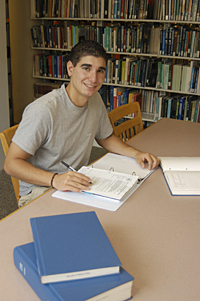 Senior Matthew De Sanctis researches threats to state water resources.

Students must have the active support of a faculty adviser and a minimum GPA of 3.0. Academic credit also is possible, but must be coordinated with the student's faculty adviser.

Internship sponsors include the College of Arts and Sciences, the Delaware Department of Natural Resources and Environmental Control, the Delaware Geological Survey, Water Resources Agency and the colleges of Agriculture and Natural Resources, Engineering, Marine Studies and the Department of Plant and Soil Sciences.

For more information, including details on current and past projects and current faculty advisers and application forms, as well as report and poster requirements, visit [http://ag.udel.edu/dwrc/jobs.html], e-mail [aboyd@udel.edu] or call 738-6779.

Photos by Danielle Quigley
E-mail this article
To learn how to subscribe to UDaily, click here.