UDaily is produced by the Office of Public Relations
The Academy Building
105 East Main St.
Newark, DE 19716-2701
(302) 831-2791

People helping people at heart of UD's Wellspring
| | |
| --- | --- |
| | Ever wonder what keeps UD running smoothly? Up Close & Personnel, a weekly feature, profiles the employees who keep UD ticking around the clock throughout the year. This week, the focus is on Wellspring. |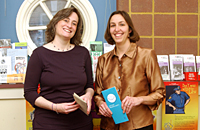 Nancy Nutt and Angela DiNunzio Seguin

3:35 p.m., Feb. 15, 2005--Wellspring, UD's health education, outreach and counseling program, celebrates its 26th year on campus this month.

Part of UD's Center for Counseling and Student Development, Wellspring staff and volunteers are a resource for the campus on nutrition and fitness, eating disorders, alcohol and drug awareness, safer-sex information, HIV prevention, tobacco cessation techniques and stress management. Last year, Wellspring served almost 1,300 students, mostly through its outreach programs.

John Bishop, associate vice president for counseling and student development, said Wellspring is an integral part of campus life. "Wellspring has been an important program on our campus for over 25 years and directly addresses the needs of our students on a wide range of topics related to wellness. The efforts that are made to teach students how to evaluate and promote their own good health contributes to their academic and personal successes," he said.

Wellspring also oversees S.O.S. (Sexual Offense Support), dealing with sexual assault, date rape, date rape drugs and dating violence issues. S.O.S. activities include staffing a crisis hotline, programming activities in residence halls, through private counseling sessions and interactive presentations for classes, residence halls, fraternities/sororities and special interest groups. Individual support and help sessions also are available.

Staffed by Nancy Nutt, program director; Angela DiNunzio Seguin, S.O.S. coordinator; Jesse Colman, substance abuse counselor; and Diane Jackson, senior secretary, and student and community volunteers who do outreach and counseling, Wellspring offers a number of interactive program such as "Jeopardy" using questions and answers as a teaching mechanism.

"We use videos such as 'Binge Drinking Blowout' to generate discussion," Nutt said. Wellspring offers educational workshops on anorexia nervosa, bulimia, and compulsive over-eating; students can watch and then discuss a "Behind Closed Doors" documentary on the modeling and fashion magazine industry, or play alcohol "Jeopardy" with topics ranging from UD's campus alcohol policy and local laws to the signs of alcohol overdose and how alcohol affects the body. Prizes are awarded to winning teams.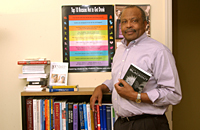 Jesse Coleman

"There is information overload today," Nutt said. "Students need to feel as though they can come to us if they experience some level of confusion.

"Our interactive programs help them sift through the messages they are receiving by giving them information in a palatable form," she said. For example, in one program, students critique magazine ads and television commercials to learn how the fashion magazine industry promotes its products, then they discuss whether or not the industry is targeting young people, she said.

Nutt joined the counseling center staff in October 1995, after earning a bachelor's degree in biology and master's degree in college counseling and student personnel administration from UD. "This is a natural fit in that it combines my biology and counseling degrees," she said.

She served as assistant program director until July 2003, when she became program director. As such, her most important job is the daily administration and oversight of the Wellspring Office and its associated programs that include S.O.S., Promoters of Wellness (POW) and V8, a group that offers students alcohol-free activities. Nutt also is the health educator on campus, doing outreach and educational programs about health issues affecting the student body.

"I'd like to see Wellspring build on our 26 years of history. There are things we are going to need to do to keep up with a changing student population," Nutt said. She said she sees Wellspring growing and making greater use of technology to reach out to students.

Five months ago, Coleman, who was the counseling center's substance abuse counselor, was assigned to Wellspring. Colman has been working with UD students, faculty and staff for six years. At Wellspring, Coleman said, he can educate, rather than rehabilitate, and work with his clients in a much more positive way. "I do screenings, assessments and interventions and can refer clients for help beyond the center if necessary." Coleman said his work has always involved helping people.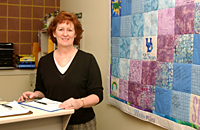 Diane Jackson

Diane Jackson, senior secretary for Wellspring and the center, has been with Wellspring for three years and has worked in UD's student health arena for 11 years. She said she enjoys her work with Wellspring and the counseling center. "I think it's great!"

"We're in the process of hiring a new program coordinator for sexual assault, dating violence and sexuality and will have a permanent graduate student assistantship as part of the office staff by September," Nutt said.

Angela DiNunzio Seguin, Wellspring's S.O.S. coordinator, is now filling a part of that role. Seguin was a volunteer for Wellspring for six years while she attended UD before joining the staff. She received her bachelor's degree in psychology and criminal justice and her master of education in college counseling and student personnel administration from UD.

"A program like Wellspring is essential on any campus," she said. "As students begin to take on responsibility for themselves, there is a lot of information they don't have. The peer programs that we have bring critical information to them making it easier to access on a college campus." Seguin also coordinates and facilitates training sessions for S.O.S. volunteers.

"Students genuinely want to know about these things. Some had no knowledge of sexual behavior; some were abused or assaulted. We reached out to them through a variety of programs—group sessions, game formats and discussions."

Article by Barbara Garrison
Photos by Kathy F. Atkinson
E-mail this article
To learn how to subscribe to UDaily, click here.