UDaily is produced by the Office of Public Relations
The Academy Building
105 East Main St.
Newark, DE 19716-2701
(302) 831-2791

Festival highlights Brazilian culture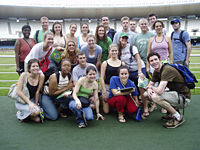 UD's Winter Session study abroad group in the Maracana Soccer Stadium in Rio de Janeiro.

4:24 p.m., March 1, 2005--UD is hosting "Festival do Brasil," a week-long event highlighting Brazilian culture and Portuguese language learning.

Events include:
Get to Know Brazil: Information Fair, from 11 a.m.-2:30 p.m., Wednesday, March 2, in Multipurpose Room C of the Trabant University Center, offers booths with displays about Brazilian music, politics, language, arts and crafts, telenovelas (soap operas) and tourism;
Brazil, Body and Spirit, including Brazil: More Than Meets the Eye, and Brazilian Art and Culture, offers an in-depth look at many aspects of Brazil, including its distinctive regions and geography, economy, art and culture, from 7-9 p.m., Thursday, March 3, in 117 Gore Hall;
Capoeira presentation and Samba Workshop, features capoeira, a unique form of Brazilian martial arts, and a chance to learn Brazilian dance steps, from 7-9 p.m., Friday, March 4, in rooms 209-211, Trabant University Center; and
Festa Brasileira: Brazilian party and dance, features dancing to Brazilian beats, from 7-10 p.m., Saturday, March 5, in the Multipurpose Rooms of the Trabant University Center.
All events are free and open to the University community.
The festival is organized by professors from UD's Department of Foreign Languages and Literatures and the Department of Art History, as well as students who studied in Brazil in 2004 and 2005.
The event is sponsored by the Department of Foreign Languages and Literatures with the assistance of the Hispanic and Latin-American Affairs Council and Latin-American Studies.
For more information, call (302) 831-0439.
E-mail this article
To learn how to subscribe to UDaily, click here.