Leading soil scientist draws top-notch grad students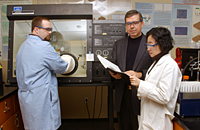 Prof. Donald Sparks (center) confers with grad students Brandon Lafferty and Jie Han.

3:02 p.m., Jan. 26, 2005--At high-tech installations around the country, UD soil chemistry graduate students work in experimental hutches filled with synchrotron light beams produced by a high-speed particle accelerator.

Research time at the installations is precious, but UD students get on the schedule because Don Sparks heads their department, plant and soil sciences.

"It's easy for him to get [particle accelerator] beam time," doctoral graduate student Ryan Tappero said. "In any field, there are probably five or 10 people who stand out, and Sparks is at the top in soil chemistry. He's the guy who is so well-known you think he's dead.''

Author of a classic soil chemistry textbook and president of the International Union of Soil Science, Sparks is a world-recognized expert on the ways metals and pollutants react with soils.

His graduate students' work may lead the way in using metal-absorbing plants to clean pollutants out of soil without having to resort to bulldozers.

Sparks is cutting-edge, but his students also use adjectives like "cool'' and "really nice" and "genuine" when they describe him.

While some graduate programs feature researchers competing on projects that are similar to each others, Sparks' students said he carefully handpicks people and programs to assure harmony and hard science.

Tappero, who is working on how alyssum plants can lift pollutants out of soil, said some of the doctoral programs he looked at while he was in a master's program at California Polytechnic would have featured colleagues whose work was too similar to his research. He said Sparks' program is designed so that students' research is complementary, not competitive.

Sparks assures the team's personalities complement each other, too, according to his grad students. Candidates are invited to spend time with the current graduate students before they receive an offer to join the group.

Jodie Han, who came from Tsinghua University in Beijing, China, to study the interaction of viruses and colloids in soil, said she came for the opportunity to work on one of the leading soil teams worldwide and also found a welcoming group when she arrived.

There's a common thread uniting all the research--how plants and soil react with each other. The projects could be anything from plants that take up metals as they grow to how microbes on soil surfaces affect the amount of toxic material the plants will take up.

Some research is done with computer modeling, some with microscopes, some with large-scale plant propagation experiments in greenhouses.

With seven graduate students and four postdoctoral researchers from all over the world, Sparks' graduate team includes biologists, chemists, geochemists and a chemical engineer.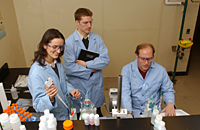 Michael Borda (center) and Edward Peltier, both postdoctoral research associates, at work in Prof. Sparks' lab with grad student Kristen Staats.

Sparks said his intent is to expose the team to the latest technology with an ion chromatograph, an infrared spectrometer and access to the Delaware Biotechnology Institute adjacent to campus.

"They have to be trained in a very modern way,'' Sparks said. "Otherwise, they're not going to be competitive in the workplace. I really think that's why they've had success in getting places.''

"I chose to work with Dr. Sparks because his research is on the cutting edge of soil chemistry,'' Brain Lafferty, a doctoral graduate student from Texas A&M, said. "The members of Dr. Sparks' group are very excited to be here. Everyone works together developing research ideas and solving problems. There are always ideas being bounced around among group members. If anyone wants to learn more about someone else's work, they are very eager to reach out."

Michael Borda, a postdoctoral research associate, switched from geosciences to soil chemistry so he could work with Sparks.

"Don is one of the rare scientists who have managed to become highly respected in several subdisciplines in soil and environmental sciences," Borda said. "I came to the group for the opportunity to work with one of the top scientists in the field. The reason I chose Don's group over several other top groups in the country was his personal reputation. Don is known around the community as one of the genuinely great people. He is humble, even when he has plenty of reason not to be."

Although some research is determined by funding, Sparks said he looks for ways to allow his students to follow their own scientific muse. "In many cases, they have a lot of independence, and they can go out and explore new territory. I think the worst thing you can do is bring somebody in and then say, 'Oh, here's your project,'" he said. "We want to be trying to discover new things, doing original research."

Sparks and his students receive funding from a variety of sources. Some of Tappero's supplies were funded by a grant from Maryland Hydroponics, a company that sells equipment to soil science labs.

Sparks and his wife, Joy, donated $25,000 in seed money for a graduate fellowship, and many of the more than 50 graduate students and postdoctoral candidates Sparks taught in years past have contributed, too.

Once students are in the labs and greenhouses, Sparks lets them try things without hovering over them.

"He has the ability to mentor students when they need direction, but gives us enough freedom to develop character and independent skills," Tappero said. "He has an open-minded attitude and enthusiasm toward new ideas and proposed projects.''

"I think it's a mistake to micromanage bright people,'' Sparks said. "I am a strong believer that you surround yourself with very good people, you provide them with input, and you let them loose. If somebody is told what to do and when to do it, they don't really have to think very much. If you micromanage someone's creativity, it stymies them.''

Kristin Staats, a Delawarean who met Sparks as a UD undergraduate and is now pursuing her master's degree, said she likes the cooperative atmosphere where students and postdoctoral fellows work together to design research projects. "I was able to work on a project that I really enjoyed, and I had the freedom to design the experiments."

With the combination of reputation, facilities, access and attitude, potential graduate students seek Sparks out at conferences around the world.

"I don't really do much advertising because I find the best ones are the ones who come to me or the ones a colleague will recommend,'' he said.

Article by Kathy Canavan
Photos by Kathy F. Atkinson
E-mail this article
To learn how to subscribe to UDaily, click here.