Don't mess with a Fightin' Blue Hen!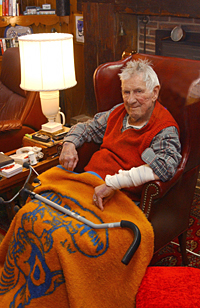 Vincent L. "Winnie" Mayer

4:58 p.m., Jan. 28, 2005--You don't mess with a Fightin' Blue Hen! That's the message an unwanted visitor got when he broke into the Newark home of former University of Delaware football and baseball star Vincent L. "Winnie" Mayer late Wednesday night.

The 95-year-old Mayer, a member of the University of Delaware Athletics Hall of Fame and holder of a UD Medal of Distinction who was a three-year football letter winner for the Hens from 1930-32, hit the intruder with his wife's cane in the incident that occurred about 10 p.m. and is believed to be related to a string of burglaries in the area.

The intruder, who smashed a window to gain entry to the Mayers' home, did steal some cash before being caned and fleeing the scene.

Mayer's spirited defense of his 86-year-old wife, Jean, and their home has received widespread attention, with the story being reported by several Philadelphia television stations and in the Wilmington News Journal.

Mayer said Friday, in the midst of nonstop calls from and visits by well-wishers, that he was pretty stiff in the wake of the incident but otherwise was doing well. "I've gone through more than that," he said.

His only regret, Mayer said, was that the bedroom into which the intruder climbed was too small to really wind up the cane for a good whack at him. "I poked at him more than hit him," Mayer said. "There wasn't much room to work on him, so I didn't get a chance to really swing it."

Mayer said he thought perhaps his training as a UD football player stood him well in the incident. "I don't think it hurt any," he said, recalling the days of leather helmets and grinding two-way duty. "Back then, if they took you out of the game, you were insulted."

Mayer said it is "a heck of a feeling" to have your home violated but said he has enjoyed the support of family and friends, even getting a call from UD President David P. Roselle. "You don't know how many friends you have until something like this happens," he said.

Mayer earned a bachelor's degree in agriculture from UD in 1933 and pursued a career as an agricultural landscaper. He was a standout end for the Hens and was named to the all-time team when UD celebrated the sport's 100-year anniversary in 1989.

Through the years, he has remained one of the Blue Hens' most loyal fans and supporters and is co-founder of the Newark Touchdown Club, which later merged with a separate Wilmington organization to form the Blue Hen Touchdown Club.

He said he's looking forward to attending UD's annual Blue-White scrimmage this spring and the fall football season.

Article by Neil Thomas
Photo by Kathy F. Atkinson
E-mail this article
To learn how to subscribe to UDaily, click here.