UD senior wins prestigious Marshall Scholarship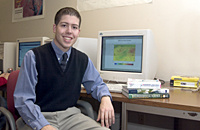 Nicholas P. Klingaman
10:29 a.m., Dec. 6, 2004--University of Delaware senior Nicholas Pappas Klingaman has accepted a prestigious 2005 Marshall Scholarship to study and conduct research in Great Britain for three years beginning next fall.
As a Marshall Scholar, Klingaman will pursue a doctorate in meteorology at the University of Reading, which is located west of London and has a respected program in the atmospheric sciences.
Klingaman, who said he was both surprised and gratified to learn of the scholarship award just one day after completing a formal interview, plans to graduate from UD in May 2005 with both bachelor's and master's degrees. His bachelor's degree will be in environmental science, with a concentration in atmospheric science, and he also has a minor in history. His master's degree will be in geography.
Klingaman is the first UD student to accept a Marshall Scholarship.
"Selection as a Marshall Scholar is a wonderful recognition of Nick Klingaman's accomplishments," UD President David P. Roselle said. "All of us at the University are very proud of Nick, and we are also very proud of his faculty mentors for the special opportunities that they provided him."
Marshall Scholarships are financed by the British government, which established the award as a gesture of thanks to the United States for the assistance received under the Marshall Plan developed by Gen. George C. Marshall after World War II.
The highly competitive scholarships, worth about $100,000 and awarded to about 40 students per year, provide opportunities for American students who have demonstrated academic excellence to continue their studies at a university of their choice in Great Britain.
The committees that select Marshall Scholars seek individuals who are likely to become leaders in their fields and make contributions to society. More than 1,000 students have received Marshall Scholarships since the program's inception in 1953.
Klingaman is from Columbia, Md., where his father, William K. Klingaman, teaches history at Centennial High School and his mother, Janet P. Klingaman, teaches science at the St. John's Parish Day School.
After graduating from high school, he enrolled at UD as a recipient of a Eugene du Pont Scholarship and is a student in the Honors Program. He said he chose UD because of its strong program in meteorology, the size of the school, its proximity to his home and its ready access to metropolitan areas.
Klingaman had help in the decision-making process from his father, a 1972 UD graduate. "My father promoted Delaware, having really enjoyed his time here," he said.
Since arriving on campus, Klingaman has been very active, not only with his studies but with special activities, including the UD Writing Fellows program. He is now a Senior Writing Fellow, assisting other fellows as they work with Honors Program students to help them make the transition to university-level writing.
He also has taken advantage of UD's undergraduate research opportunities, working in an area of study that evolved into his master's thesis, and the Imperial College exchange, which enabled him to visit London. "That experience convinced me that applying for the Marshall Scholarship was the right thing to do," Klingaman said. "I found the culture a good fit, and now know which way to turn in Heathrow International Airport."
In addition to an ambitious UD schedule, Klingaman said he enjoys spending his spare time working with children and is a volunteer Sunday School teacher at First Presbyterian Church of Newark.
Klingaman's own interest in meteorology started early in life. "I've always been fascinated by the weather," he said. "When I was very young, I would beg my father to give me blank copies of maps of the United States from his school. I would draw the high- and low-pressure areas, the fronts and the temperatures on the maps, then present them for my family as if I were a real meteorologist. I always knew it was something I wanted to do."
After completing his doctorate at the University of Reading, Klingaman said he hopes to continue research in the development of computer models of the atmosphere that will consider long-term climate change. "That is one area of the field that needs improvement," he said. "We don't fully understand the way the atmosphere works, which you see every day when the weather forecast is wrong."
His goal is to continue with postdoctoral research at the National Center for Atmospheric Research in Boulder, Colo., where he can conduct research on atmospheric models using one of world's most powerful computers.
Klingaman said he has enjoyed the personal attention provided by professors in the Department of Geography, and that he has "appreciated all the opportunities that UD has provided," including support through the Marshall Scholarship selection process.
Article by Neil Thomas
Photo by Kathy F. Atkinson
E-mail this article
To learn how to subscribe to UDaily, click here.