UDaily is produced by the Office of Public Relations
150 South College Ave.
Newark, DE 19716-2701
(302) 831-2791

Paul Jones attends 'Magnificent Seven' opening reception at DelState
3:15 p.m., Oct. 30, 2003 p.m., Oct. 3, 2003--A foundation in the arts is an important part of any education, University of Delaware benefactor Paul R. Jones told about 40 students, faculty and administrators on hand for the opening of an exhibit featuring works from his collection on Wednesday evening, Oct. 29, at Delaware State University in Dover.

Collector and UD benefactor Paul Jones (left) with Delaware State University President Allen L. Sessoms at the opening reception of "The Magnificent Seven" at DelState.
The exhibit, titled "The Magnificent Seven: Hayward Oubre's Students–Works from the Paul R. Jones Collection," was shown last spring at UD's Perkins Student Center and is on view this fall on weekdays at the DSU Art Center/Gallery in the William C. Jason Library.

Jones told the guests he encourages investments in art for both cultural and financial purposes. "Instead of buying that $200 pair of sneakers that is going to wear out someday, why not put that money into a print or an original painting that will grace the wall of your home year around?" he said.

Over the years, Jones said he has invested in both art and in stocks and bonds. "To be honest," he said, "I think the art has appreciated more."

Jones donated the Paul R. Jones Collection, which is one of the world's largest and most comprehensive private collections of works by African-American artists, to the University of Delaware in February 2001. "It was a gift not just to the University of Delaware and its alumni but to all the citizens of Delaware," he said.

In making the gift, one of Jones' goals was the collaboration of the University of Delaware with historically black colleges and universities, and he said he is pleased this is the second exhibit to travel from UD to Delaware State University. Other shows featuring works from the collection have traveled to Spelman College and to Georgia State University in Atlanta.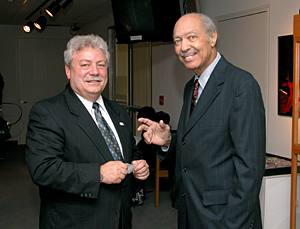 Paul Jones chats with Donald Parks, director of the Arts Center/Gallery at Delaware State University.
Jones invited those gathered to attend the grand opening of a major exhibit of works from the collection to be held in fall 2004 on the campus of the University of Delaware, with activities to be centered in the newly renovated Mechanical Hall, the new home of the Paul R. Jones Collection.

Jones was welcomed to the Delaware State campus by its new president, Allen L. Sessoms, himself a collector, who said, "The arts, for me, are incredibly important."

State Rep. Nancy H. Wagner (R-Dover) thanked Jones for his interest in Delaware State.

"The Magnificent Seven" exhibition features about 40 works by Oubre, formerly an art professor at Alabama State University, and his students, William Anderson, Herman Bailey, Arthur Britt, Floyd Coleman, John Feagin, Paul Gary and Harper T. Phillips.

Article by Neil Thomas
Photos by Kathy F. Atkinson

E-mail this article
To learn how to subscribe to UDaily, click here.