UDaily is produced by the Office of Public Relations
150 South College Ave.
Newark, DE 19716-2701
(302) 831-2791

Paul Jones encourages McNair Scholars to pursue their dreams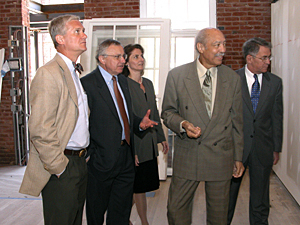 UD benefactor Paul Jones (second from right) tours Mechanical Hall, future home of the Paul R. Jones Collection, with (from left) Mark Huddleston, dean of the College of Arts and Science; Provost Dan Rich; Janis Tomlinson, director of University Museums; and UD President David P. Roselle.
4:50 p.m., Oct. 15, 2003--Overcoming adversity and oppression and achieving success in business and in government service are among the many accomplishments of UD benefactor and honorary McNair Scholar Paul R. Jones.

Jones, who has donated his extensive collection of African-American art to UD [www.udel.edu/PaulRJonesCollection/], recently shared some of his experiences and vision with fellow McNair Scholars from UD and across America.

In his opening remarks to the more than 160 McNair Scholars, directors and guests at the closing banquet of the National McNair Scholars Research Conference, Oct. 4, in the Trabant University Center, Jones paid tribute to Ronald E. McNair, the second African-American astronaut in space who died aboard the space shuttle "Challenger" in 1986 and for whom the McNair program is named.

"I speak to you as a McNair Scholar myself," Jones said. "I also speak to you as one who loves Ronald McNair and respects the dedication of the person for whom the program is named."

The Ronald E. McNair Post Baccalaureate Achievement program at UD is one of 156 nationwide, and Jones was named an honorary McNair Scholar by UD's program in 2001.

Addressing the theme of the two-day conference, "Developing Excellence in Academia and Beyond," Jones shared what it was like growing up in Bessemer, Ala., before and during the Civil Rights era.
"I want to tell you about some of the experiences that I had, in the hopes that they will trigger excellence in you," Jones said. "There is no need to worry about what you do, just so you do what you feel good about, are good at it and that you do it well."


Living under 'Separate but equal'

As a youngster growing up in Alabama, Jones said he developed a love of reading and a fascination for the world of possibilities depicted in the books he read.

"I did a lot of reading when I was a kid," Jones said. "It is amazing how many journeys you can take by sitting in one place."

One of the things that caught his attention at the time was a book he read about the young men who went on to become officers by attending the U.S. Military Academy at West Point, N.Y.

"I fantasized about Paul Jones being at West Point," Jones recalled. "It developed into a conversation with my father, and I told him I wanted to go there."

While Jones may have dreamed of becoming a U.S. Army cadet and future officer, growing up in the segregated South under Jim Crow laws prevented his aspirations from becoming a reality.

"My dad went to see the superintendent of the company where he worked (Tennessee Coal, Iron & Railroad Co.), about getting me into West Point, but I never heard anything," Jones said. "I was very disappointed at the time, but I kept on going."

Although denied the opportunity to go to West Point, Jones did earn a scholarship to Alabama State University, where he was president of the freshman class and president of his fraternity pledge club, while still finding time to play football and drums in the marching band.

After a two-year stint at Alabama State, Jones said he thought going to law school was a good idea. Once again, this goal ran into the roadblock of the Jim Crow laws and the racial oppression that characterized the climate of the South in those days.

"I wrote to the University of Alabama, home of the Crimson Tide, and told them I wanted to go there," Jones said. "They didn't know who I was or what color I was."

It was only when Jones sent a transcript of his grades from Alabama State University to the admissions office at the University of Alabama, he said, that his plans to attend law school there were dashed.

"I sent a letter, along with my transcript from Alabama State, and that must have sent up a flag," Jones said. "I got a letter back saying 'the best thinking people of both races at that time would deplore any such insistence on my part.' I still have that letter."

All this happened in 1949, before the historic Brown v. the Board of Education case when the U.S. Supreme Court ruled that the policy of separate but equal access to education was unconstitutional.

"I talked to lawyers at the time but I could not get them to take the case," Jones said. "They said they were bound under the separate but equal law in Alabama at that time."

One thing he has managed to maintain through the tough times and the good times, including a successful business and government career, Jones said, is a positive sense of his own worth as a person, despite whatever happened to be going on around him.

"I feel good about myself, and I feel that I am as good as anybody else," Jones said. "That is the philosophy I grew up with."

Another sustaining factor in his long career in government, which included serving as executive director of the Peace Corps in Thailand, Jones said, was his belief that if he kept showing up, good things were eventually bound to happen.

"I never said that I'm going to be a teacher, or a probation officer, a businessman or a conciliation specialist with the federal government," Jones said. "You have to be prepared. Just be in the right place at the right time, and opportunity will present itself."

Paul Jones, art collector

During his years in government service, Jones—who recently was named one of the top 100 collectors of art in America by the magazine Arts & Antiques—began to collect art, his first items being three small-scale prints, one each, by Toulouse-Lautrec, Degas and Chagall.

After his introduction to a national juried show of African-American art at Atlanta University, Jones said he decided to make the acquisition of African-American art the focus of his burgeoning collection.

"During those years, I moved around the country a lot, and I began to collect art," Jones said. "As soon as I had collected enough art, I began to lend it."

Not only did Jones share his art with museums, high schools and churches, he also helped gain national recognition for many African-American artists new to the gallery scene.

"I was looking for a new building to put my art in, and an artist said to me, 'Since you have a reputation as a collector, why don't you put a couple of my paintings in your room of masters, with Charles Wright, Benny Andrews and Jacob Lawrence?'" Jones said. "He had a point. I began to have an influence."

With his influence as a collector on the rise, Jones began looking for a more permanent home for a collection that would eventually include more than 1,000 works. It was about this time that Jones said he received a call from the University of Delaware.

"I knew that UD had one of the best art history programs in America," Jones said. "They had an established reputation that gave them an influence on art history programs around the country."

Through a meeting between artist and art historian Amalia K. Amaki, now curator of the Paul R. Jones Collection and assistant professor of Black American Studies at UD, and William I. Homer, H. Rodney Sharp Professor Emeritus of Art History, the assemblage of art that was outgrowing Jones' Atlanta home would soon find a new one at UD.

"I told them that what I wanted to see happen was to have some of the works in the collection always on display," Jones said. "I asked for this so the collection could be accessed by scholars, students and the general public."

On Feb. 14, 2001, UD President David P. Roselle announced that the University had officially become the permanent home of the Paul R. Jones Collection.

Mechanical Hall, formerly home to the Army ROTC at UD, is now being converted into an art gallery to house the Paul R. Jones Collection, with research and study space, a collection storage area and office space.

Jones said that while he is pleased that his collection now had a home, he wants to see UD collaborate with other institutions in mounting traveling exhibitions of works from the collection.

"I said that if we do a show at UD, why not share that show with others and let it travel," Jones said. "We did that. Spelman College, in Atlanta, entered into the first collaborative with us, as did Delaware State University."

As he spoke to the McNair Scholars who are headed for careers in several professional disciplines, Jones said that he hoped his collection would become the centerpiece of what he called "Paul R. Jones Initiative."

"We look at this collection not just as art and, how it relates to art history and the art conservation program and the museum studies program," Jones said, "but as how it relates to sociology. This initiative is about more than what kind of art came out of a room in the '60s, '70s and '80s."

Another goal, Jones said, is for UD, through its nationally recognized art history and art conservation programs, to weave African-American art into the teaching of American art.

The presence of the Paul R. Jones Collection at UD, including its use as a teaching tool in art history and the Black American Studies Program, also has had a positive impact on the recruitment of minorities to the UD campus, Jones added.

"Students came here last year looking at UD as a prospective institution, and I talked to as many of them as I could," Jones said. "I was pleased to see them react positively to the idea that the collection was here, and that UD had had the foresight to accept and do something with the collection. I believe this has made a difference."

Jones also told the McNair Scholars that he hoped that relating his experiences would make a difference in the way they approach challenge and opportunity during their academic and professional careers.

"I think you are a bright light for the future, and I hope that you are inspired to do your very best in whatever you do," Jones said. "We need the kind of leadership that only you can provide. I challenge you to provide that leadership."

Article by Jerry Rhodes
Photo by Kathy Atkinson

E-mail this article
To learn how to subscribe to UDaily, click here.