Mechanical Hall transformed to house Paul R. Jones Collection
Click here for slide show.
3:30 p.m., March 5, 2004--Outside, Mechanical Hall remains utilitarian 19th-century brick. Inside, 21st-century technology mingles with the original wooden beams and posts.
"UD's created a modern gallery, while at the same time respecting an historic structure,'' Janis Tomlinson, the director of University Museums, said. "Inside, you see the old brick work; you see the old posts; and you see a lot of the original architecture of the building, but, at the same time, you have a modern gallery."
Over the past year, Mechanical Hall has undergone a $4.6 million renovation and been converted into a climate-controlled art gallery to house the Paul R. Jones Collection. With more than 1,500 pieces, it is one of the oldest, largest and most complete holdings of African-American art in the world and was donated to the University by Atlanta collector Paul Jones in 2001.
Now a dramatic, white-walled art gallery, a study room and an art storage area are spread across Mechanical Hall's first floor, which once was home to a large boiler room and the mechanical engineering department's machine shop. About 400 pieces of the Paul R. Jones Collection have already arrived at their new home and are being documented.
The upstairs that first housed an electrical laboratory and a drafting room has been renovated to provide window-walled offices for faculty and staff from museum studies, sociology, art history, University Museums, the Paul R. Jones Collection and the UD/Winterthur Program in Art Conservation.
"It's an excellent gallery space,'' Tomlinson said. "We've got two lovely galleries, a study room that's absolutely beautifully equipped, the storage room and we have a frame shop.
"For those of us who have offices here, it's a very nice atmosphere," Tomlinson said. "It's a vibrant combination of the people who will contribute to the excellence of the space for exhibition, for meetings and for study.''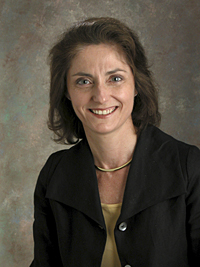 Janis Tomlinson, director of University Museums

Paul Pusecker, executive officer for the College of Arts and Sciences, said, "The architect [Ziger/Snead of Baltimore] went to great pains to maintain the integrity of the building."
"I'm pleased to see that the building has been transformed into a space that the University can enjoy for another 100 years," he said.

Mechanical Hall has always changed with the times.

On the National Register of Historic Places, Mechanical Hall originally cost the University $5,493.08, including blackboards--the latest technology 106 years ago. A new copier recently installed cost more than the building did when it was constructed in 1898.

In the 20th century, Mechanical Hall served as an engineering building, a groundskeeper's headquarters, an athletic training center, a World War II military installation, a residence hall for veterans returning to school after World War II and an ROTC building.

During the renovations, workers found spent shells from an ROTC shooting gallery that once occupied part of the lower level of the building.

A Molotov cocktail exploded in a ROTC storage closet there in 1968. No one was injured in the blast, which was considered a protest against the Vietnam War. In 1977, an electrician discovered an unexploded bomb, thought to have been used as a teaching aid during World War II.

Photos by Kathy Atkinson
E-mail this article
To learn how to subscribe to UDaily, click here.