UDaily is produced by the Office of Public Relations
150 South College Ave.
Newark, DE 19716-2701
(302) 831-2791

Florida Governor's Mansion shows Paul Jones Collection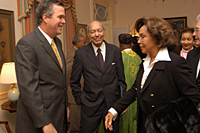 Paul Jones (center) with Florida Gov. Jeb Bush and Diahann Carroll

11:46 a.m., Feb. 11, 2004--Thirteen works from the Paul R. Jones Collection at the University of Delaware, which will be featured in a major campus exhibition opening this fall, are on view through February in the Florida Governor's Mansion as part of the state's Black History Month activities.

The Paul R. Jones Collection is one of the world's largest and most complete collections of work by African-American artists. The collection was given to UD in 2001 by Atlanta collector Paul Jones and is housed in UD's historic Mechanical Hall, which has undergone a $4.6 million renovation to become a premier art gallery.

Governor Jeb Bush and First Lady Columba Bush said they are pleased to host the exhibit, which includes several artists and subjects with Florida connections.

Painter Jimmie Mosely, whose watercolor from the Jones Collection, "Humanity 2", is included in the exhibit, was born in Lakeland, Fla., in 1927. The work attests to a vision of diversity in which working-class subjects go about their daily lives in peaceful coexistence.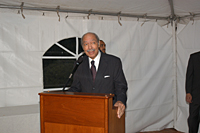 Paul Jones

Also on display in Florida is a small brass bust of Florida educator Mary McLeod Bethune, founder of Bethune-Cookman College, Daytona Beach by sculptor Selma Hortense Burke. One of Burke's great accomplishments was creating the portrait of Franklin Delano Roosevelt, which graces the Roosevelt dime, a commission she received from the United States Mint in 1943.

The Paul R. Jones Collection features more than 1,500 works by nearly 200 artists, including Herman "Kofi" Bailey, Earl Hooks, Stanley White and Jacob Lawrence.

Jones donated the collection to UD—highly regarded for its programs of art conservation, art history, art, museum studies and Black American Studies—in hopes of transforming how future generations understand American art. "We must weave African-American art into American art," he has said. "They are one and the same."

Photos courtesy of the Florida Governor's Office
E-mail this article
To learn how to subscribe to UDaily, click here.