UD researchers collaborate on study of how prostate cancer spreads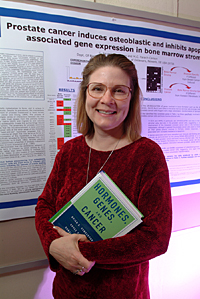 Mary C. Farach-Carson, professor of biological sciences

4:31 p.m., Jan. 5, 2004--The National Cancer Institute has awarded a $7.6 million grant for collaborative research among several institutions of higher education, including the University of Delaware, to study the pathways and mechanisms for prostate cancer metastasis to bone.

The collaborative effort consists of three separate but interrelated projects that will be led by Leland Chung, director of urological research at Emory University in Atlanta.

Collaborators include several units at Emory in addition to researchers from UD, who are led by Mary C. Farach-Carson, professor of biological sciences. Other team members are from the University of Virginia, Stanford University and the Fred Hutchinson Cancer Research Center.

"I am delighted to have this opportunity to participate in a project of such importance," Farach-Carson said. "This is an outstanding collaborative team because it brings researchers with a longstanding expertise in prostate cancer together with our group, which has expertise in bone, the principal site of metastasis of prostate cancer."

Farach-Carson added that "breast cancer also metastasizes to bone, so our findings should have broad implications in that arena as well."

Several faculty new to the UD Department of Biological Sciences, Carlton Cooper and Robert Sikes, also work in the area of prostate cancer and will be involved in the research, Farach-Carson said.

The National Cancer Institute funding will "complement our ongoing research projects with the Graham Cancer Center at Christiana Hospital," Farach-Carson said. "This is a really good thing for our research and for Delaware."

Chung said the strength of the project is its interactive nature. "We are all looking at different parts of the metastasis problem, and the laboratory activity is highly interactive," he said. "This project is organized to achieve synergy among individual scientists who have an established track record of research collaboration."

Nearly 90 percent of all prostate cancer patients who die from the cancer experience bone metastasis. "The ultimate goal of this project," Chung said, "is to develop novel diagnostic, prognostic and treatment options based on a better understanding of the mechanics of prostate cancer and bone metastasis."

The three primary projects are:
A study of the biology of tumor-stroma interaction, which will be led by Chung. This project will study the biology of the interaction between metastatic human prostate cancer cells and bone or prostate stroma, which contributes to localized cancer growth, invasion and distant metastasis. The purpose is to develop potential molecular or genetic targeting strategies for treatment of prostate cancer bone metastasis.
A study of heparan sulfate proteoglycans in prostate cancer bone metastasis, which will be led by Farach-Carson. This project will look at the interactions between prostate cancer cells and the marrow stromal cells that facilitate the progression of metastases in bone and bone marrow. By better understanding the bone stromal microenvironment, researchers predict a better understanding of how metastasis occurs within the bone, which will lead to development of novel therapeutic strategies for disrupting that process.
A study of mitochondrial DNA mutations in prostate tumorigenesis and stromal and epithelial interaction, which will be led by John Petros, associate professor of urology at Emory. This project will research mitochondrial DNA mutations in prostate cancer to determine how those mutations protect cancer cells from their normal cell death and enhance tumor growth and metastasis and how cancer-associated stromal cells may support the survival of cancer cells.
Chung said an important goal of the three collaborative projects is to discover relevant genes that may "turn on or turn off" during the making of prostate cancer cells and their subsequent metastasis to bone.
"By embarking on this team approach to the problem of prostate cancer bone metastasis, we may discover new pathways that support the metastasis. As a result, new therapies may be generated in the diagnosis and treatment of men with advanced forms of prostate cancer," he said.
Article by Neil Thomas
Photo by Eric Crossan
E-mail this article
To learn how to subscribe to UDaily, click here.