UDaily is produced by the Office of Public Relations
150 South College Ave.
Newark, DE 19716-2701
(302) 831-2791

McNair Scholars celebrate achievements



11:05 a.m., Aug. 29, 2003--Keith Gilyard, professor of English at Pennsylvania State University, told a group of promising young scholars at UD to be proud of their accomplishments and passionate about the pursuit of their dreams.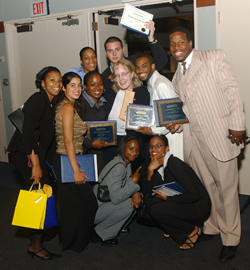 McNair and University Undergraduate Scholars who celebrated their achievements Aug. 14 included: (back row, from left) Ariana Horry and Craig Firzgerald; (middle, from left) Kholiswa Laird, Linda Estevez, Jade Logan, McNair program director Maria Palacas, Lionell Flamer, Mondoe Davis; and (front, from left) Laurin Parker and Jennifer Hoque.

Gilyard made his remarks as keynote speaker during the fourth annual McNair and University Undergraduate Scholars Achievement and Celebration Dinner, held Aug. 14, in Clayton Hall.

Named for Ronald E. McNair, an African-American astronaut who died in the explosion of the "Challenger" space shuttle in 1986, the UD program helps students from diverse and disadvantaged backgrounds get into graduate programs of their choice and obtain funding. The University Undergraduate Scholars program is modeled on the McNair program.

Gilyard gave the students advice based on his experience as an academic and an author.

"I want to talk to you about what you might do from here in the world of intellectual pursuits," Gilyard said. "I also want to convey the necessity to have a sense of passion for what you are doing. Remember, what you are trying to do is nothing less than to change the world."

For Gilyard, this intellectual odyssey was fostered early on through an intense interest in the creative arts.

"I was really serious about poetry at a very young age," Gilyard said. "I had a passion for it."

This passion and its connection to language as a cultural heritage has resulted in the publication of several books, including "Voices of the Self: A Study of Language Competence" (1991), "Let's Flip the Script: an African-American Discourse on Language, Literature and Learning" (1996), "Poemographics" (2001) and "Liberation Memories: The Rhetoric and Poetics of John Oliver Killens" (2003).

He also is the editor of "Spirit & Flame: An Anthology of Contemporary African-American Poetry" (1997) and of "Race, Rhetoric and Composition" (1999).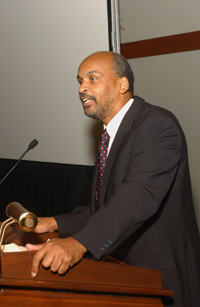 Keith Gilyard, professor of English at Pennsylvania State University: "Remember, what you are trying to do is nothing less than to change the world."

Gilyard's love affair with poetry began as a youngster in New York City, where he was a frequent visitor to the Langston Hughes Library located not far from his home.

"By the end of the sixth or seventh month, I had read the entire poetry section of the library," Gilyard said.

Gilyard also said it was ironic that, just before he began his remarks, Marie Robinson, associate professor of music, accompanied by Elainia Denney, AS '03, on piano, had sung "I Too," a song based on the poem by Hughes.

This early passion for poetry and the search for cultural connection that it spawned influenced everything he has done since then, including publishing three volumes of poetry, Gilyard said.

"I began to study linguistics, because I wanted to learn more about how language plays out in the world," Gilyard said. "I have never confined myself to one field, because at some point they are all connected."

While noting that careers and lifelong interests do not happen overnight, Gilyard said there has to be a starting point for everyone.

"For you, the time is now," Gilyard said.

The McNair Program, Gilyard said, is crucial in this development because it helps students get used to the idea of succeeding. "What I want you to retain, is the initial enthusiasm that you have gained by your success in the McNair Program," Gilyard said.

UD President David P. Roselle also challenged current and future McNair students to build on the success of their predecessors in the program.

"UD is the only place where 100 percent of McNair students graduate and get accepted into graduate programs," Roselle said. The average rate of McNair scholars nationwide accepted into graduate school is 31 percent.

"If that makes you feel pressure, that is good because the McNair program is designed to help you do more and to help place underrepresented students in the highest ranks of intellectual pursuit in the country. The program has an obligation to continue that."

Roselle also thanked the students for naming UD benefactor Paul Jones as an honorary McNair Scholar.

"As you know, Paul has given his distinguished collection of African-American art to the University," Roselle said. "Of all the things we have done at UD to further the friendship between Paul Jones and UD, nothing has done more than his having been named an honorary McNair Scholar."

Maria Palacas, McNair program director, noted that McNair Scholars excel in their efforts in the classroom and beyond.

"McNair scholars have an average 3.5 grade point average, and work on things like developing personal and technical skills through intense summer internships," Palacas said. "They also are very involved in extracurricular activities."



2003 McNair Scholars Program Faculty Awards
Julie Hubbard, assistant professor of psychology, Mentor of the Year;
Heyward Brock, professor of English, Commitment to the McNair Scholars Program
2002-03 Ronald E. McNair Post Baccalaureate Achievement Program Awards
Kenneth Ewane, AS 2004, Spirit of McNair Award;
Jade Logan, AS 2004, Spirit of McNair Award;
Lionell Flamer, AS 2005, Collegiality Award;
Jennifer Hoque, AS 2005, Collegiality Award;
Mondoe Davis, AS 2004, Leadership Award;
Jamie Barrios, AS 2004, Leadership Award; and
Swati Pradhan, AS 2005, McNair Scholar of Promise Award.
McNair Scholar Danielle Juan, a senior from Middletown, New Jersey, said she appreciated the sense of community and compassion that developed between fellow students as part of the McNair summer experience.

"We did not know each other when we started the program," Juan said. "As the summer evolved, we learned to care for each other. We were unwavering in our goal to succeed, but we also remembered to have fun."

The sense of community and sharing while pursing academic excellence also impressed fellow McNair Scholar Kenneth Ewane.

"I came into this with mixed feelings, and I did not know how it would work," Ewane said. "We became one big family, and we were bound together by love, integrity and respect for our differences. I'm glad I had the opportunity to know each and every scholar. I have become friends with everybody."

Provost Dan Rich said that, in the final analysis, the only real measure of success for an educational institution is the success of its students.

"It is obvious that the students who are recognized here this evening have succeeded at an extraordinary level," Rich said. "We are very proud of our program, and we are very proud of our scholars."

Article by Jerry Rhodes
Photos by Duane Perry

[an error occurred while processing this directive]