UDaily is produced by the Office of Public Relations
150 South College Ave.
Newark, DE 19716-2701
(302) 831-2791

'Magnificent Seven' art exhibition at Delaware State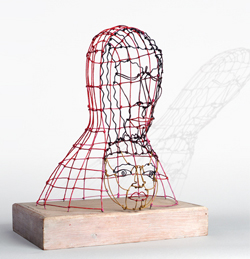 "Miscegenation," wire sculpture, by Hayward Oubre, 1963, © The Paul R. Jones Collection, University of Delaware

11:11 a.m., Oct. 28, 2003--"The Magnificent Seven: Hayward Oubre's Students–Works from the Paul R. Jones Collection," which was exhibited during the spring semester at UD, is on view at Delaware State University in Dover through December.

Exhibition hours for the free public exhibition are 9 a.m.-4:30 p.m., Monday-Friday, at DSU's Art Center/Gallery. A public reception will be held from 5-7 p.m., Wednesday, Oct. 29.

The exhibition of approximately 40 works includes paintings, drawings, sculpture, photographs, prints and mixed media by Oubre, then an art professor at Alabama State College (now University) and his students William Anderson, Herman Bailey, Arthur Britt, Floyd Coleman, John Feagin, Paul Gary and Harper T. Phillips.

Hayward Louis Oubre, Jr. (1916- ) is a sculptor, painter, printmaker, educator, author and civil servant known for his contributions to the art world and the color wheel (a clarified approach to color mixing and color relationships). Among his renowned works are his wire sculptures: "Prophet," "Young Horse" and "Convolutions."

The imagination and creativity displayed in Oubre's work have earned him more than 50 exhibits, representation in the permanent collection at Atlanta University and numerous awards, including listings in "Who's Who in American Art" and "Who's Who in Black America" and North Carolina's highest honor, the Order of the Long Leaf Pine.

For more information on the Paul Jones Collection, contact curator Amalia Amaki, assistant professor of Black American Studies at UD, at 831-4075 or via e-mail at [amaki@udel.edu].
E-mail this article
To learn how to subscribe to UDaily, click here.