Injuries force Lunn to end UD basketball career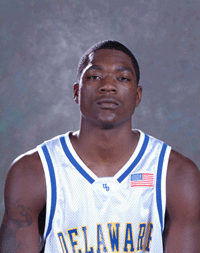 David Lunn

11:47 a.m., June 14, 2004--After battling a series of injuries throughout his career on the University of Delaware men's basketball team, guard David Lunn has decided to forego his final year of eligibility, it was announced Friday.

Lunn has undergone four surgical procedures during his career with the Fightin' Blue Hens, and last season he suffered a wrist injury that significantly affected his offensive ability during the final month of the season.

In early April, UD Head Coach David Henderson met with Lunn to discuss his future, suggesting at that time that he might want to consider foregoing his final season due to the chronic injury problems. At that point, Lunn was not participating in the team's off-season conditioning activities because he was recovering from injuries suffered during the 2003-04 season.

Initially, Lunn wanted to keep playing so he returned to the workouts. However, within a few weeks, he came to the conclusion that a return was not possible and that it was time to consider a medical waiver.

"I think at first it was just difficult for David to accept," Henderson said. "We want what is best for David's well-being. He is a competitor and I think that was clouding his better judgment in the beginning, almost creating a state of denial. His education and his health are paramount to us.

"David is still part of our family," Henderson said. "Despite what some people have said or thought, David wanted to continue to play basketball at Delaware. However, his body just won't let him. He is part of our basketball family; he remains on scholarship and will serve in the program in another capacity."

Lunn, a native of Baltimore, will continue his pursuit of a bachelor's degree in history with the intention of graduating next spring.

"Deep down, I still want to play," Lunn said. "However, I keep looking at things as they could be a whole lot worse. I am getting a good education and next year will have a degree from the University of Delaware. I came here to get an education and make lifelong friends, and that will be the end result. I understand where Coach Henderson is coming from with this.

"I want to thank our fans for all of their support and patience through my career," Lunn said. "They have always been supportive of me throughout my time and I will never forget that."

Lunn appeared in 70 games during his career, averaging 6.6 points per game. Last season, he started 20 of the 27 games in which he appeared, averaging 8.1 points per game. He scored in double-figures 10 times last season, including each of the first six games of the season. However, he scored just 14 points over the final four games of the season due in large part to his sore wrist.
E-mail this article
To learn how to subscribe to UDaily, click here.