UDaily is produced by the Office of Public Relations
150 South College Ave.
Newark, DE 19716-2701
(302) 831-2791

Panel reviews Paul Jones' life as reflected in his art collection
4:45 p.m., Nov. 5, 2003--Carole Marks used a concept from French critic Roland Barthes to explain the feelings the Paul R. Jones Collection elicts.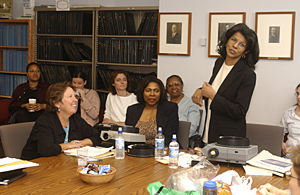 Margaret Andersen (seated left), professor of sociology; Amalia Amaki, curator of the Paul R. Jones Collection and assistant professor of Black American studies; and Carole Marks, professor of sociology, lead a discussion of Paul Jones' life and art collection.
She said Barthes' concepts of studium and punctum explain how the Jones collection captures viewers' attention on two levels. The studium is an attraction based on cultural background and information. The punctum is the part of the art that elicits emotion.

"Punctum is the element that shoots out like an arrow and punctures you,'' the professor of sociology and criminal justice said as she displayed slides from the collection for a panel on Jones' life and collection, held Tuesday in Munroe Hall.

Margaret Andersen, professor of sociology who is writing a biography of the art collector and UD benefactor, encouraged faculty members to use Jones' art in their classes. "These images chronicle the last three-quarters of the 20th century,'' she said.

Andersen told the story of 10-year-old Paul Jones standing in a New York City museum noticing how art captivated museumgoers and held their attention. "He thought there must be something to it, and he decided to find out,'' she said.


Jones amassed a collection of more than 1,500 pieces, one of the most complete holdings of African-American art in the world.
The son of an Alabama steelworker, who studied at Howard and Berkeley, bought frames for his first prints at K-Mart and stained them himself. He still has them in his Atlanta basement, she said.

Andersen said Jones, a government worker and civil rights mediator, delved into art and the study of art and got to know the artists.

She said that, as she interviewed him, she realized that his memories were history. While books discuss the great migration, Jones, born in 1928, remembers watching families at the Bessemer, Ala., train station carrying brimming suitcases tied together with string or belts.

He told her stories of sitting on the front porch with the extension cord stretched out the windows so neighbors could hear the radio play-by-play of heavyweight champion Joe Louis beating Hitler's pick Max Schmeling in 1938.

Andersen said Jones' relationships with the artists provide a wealth of information. "There's not an art piece in the collection that doesn't bring with it an interesting story,'' she told the group.

Amalia Amaki, curator of the collection and assistant professor of Black American studies, said Jones once threw overalls over his pajamas, jumped in his car and drove across town because he saw a small auction notice in the newspaper, and, buried in the listing of sale items was a piece by premier artist Henry Tannin. Jones got the piece.

Illustrating the historic and artistic value of the collection, Amaki said Jones collected several P.H. Polk photographs that were printed before more than 40,000 of Polk's negatives burned in a fire. She said actor Morgan Freeman is seeking permission to get a copy of a photograph Polk shot of Freeman early in his career—and he's seeking permission from the Jones collection.

A major exhibition from the Paul Jones Collection will be held at UD during the 2003-04 academic year. UD is nearing completion of the renovation of historic Mechanical Hall as the campus home for the collection.

E-mail this article
To learn how to subscribe to UDaily, click here.