UDaily is produced by the Office of Public Relations
150 South College Ave.
Newark, DE 19716-2701
(302) 831-2791

UD professor examines spatial deficits in Williams syndrome children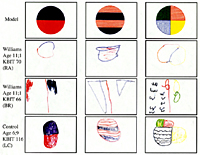 Above (middle two rows) are samples of copied spatial designs (top row) by two 11-year-old children with Williams Syndrome. Typically, their copies distort spatial properties while preserving other design aspects, such as color. The drawings in the bottom row are by a six-year-old child without Williams syndrome.

1:15 p.m., May 28, 2004--Approximately one in 25,000 individuals worldwide are born with Williams syndrome (WS), a rare, genetically based disorder resulting in mild mental retardation and an unusual pattern of strengths and weaknesses in cognitive abilities. Individuals with WS may have language and social skills but still can be profoundly impaired in visual-spatial abilities and numeric processing. For example, a Williams syndrome child of 11 may be unable to draw a picture of a ball with two colors but have no difficulty describing it.

James Hoffman, professor of psychology at the University of Delaware, and Barbara Landau, Dick and Lydia Todd Professor of Cognitive Science at Johns Hopkins University, are using eye-tracking measures to detail the nature of the spatial deficit and how it affects descriptive language with the goal of understanding more completely how the brain is organized. Their work is funded by grants from the March of Dimes, National Science Foundation and National Institutes of Health.

Hoffman's research centers on spatial cognition, particularly visual attention and eye movements. His focus is on the role of attention in the performance of "real-world tasks," such as searching for an object in a cluttered scene or constructing spatial patterns. He uses
standard models from cognitive psychology as well as measuring "event-related brain potentials" and eye movements.

Landau studies language learning, spatial representation and the relationships between these systems of knowledge.

In their laboratory work, Hoffman and Landau have children with and without WS of various ages do spatial construction or, in this case, reproduce images on paper. They then track and record the children's eye movements as they try to complete the task. Hoffman said that tracking the eye movements gives them an understanding of how the brain is working and of the nature of the deficit.

"These kids are giving us a window on mapping the brain/mind," Hoffman said.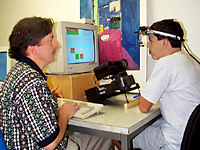 James Hoffman, profesor of psychology (left), works with Anthony, 14, to record eye movements during various tasks. Photo by Jack Buxbuam.

He and Landau have pinpointed a variety of deficits and areas of the brain that are responsible for performing spatial tasks, and they are trying to understand if the brain malfunctions when observing the object or in reproducing it and why.

"We believe that the spatial distortions we see in drawings and other visio-spatial construction tasks by people with Williams syndrome do not reflect corresponding distortions in their perception of the world. We will argue that this syndrome leaves spared a number of spatial cognitive subsystems, including object recognition and identification, biological motion perception and spatial languageŠand that some of the most profound deficits are not due to abnormal architecture, but to small misadjustments that culminate in large downward spiraling performance."

One example of this, Hoffman said, is that persons with WS know that their drawings are not correct. The most common errors involved choosing an incorrect part and drawing it in an incorrect location. They can easily distinguish between correct and incorrect drawings of models, but they can't do better when they try again, he said.

"Drawing or assembling parts to make a model is an extremely frustrating experience for them because they are aware of their poor abilities in this domain, and they usually resort to random changes in an effort to correct their efforts. However, the defect is not simply a problem with motor output either because they can trace drawings just fine. So their spatial deficits are not due simply to either problems in input (perception) or output (action) but to some cognitive processes in between. We are now trying to characterize the nature of these processes," he said.

Article by Barbara Garrison
Photo and graphics courtesy of the Department of Psychology
E-mail this article
To learn how to subscribe to UDaily, click here.