Championship football team honored with gala event in Washington, D.C.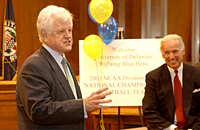 Joining Sen. Joseph Biden at the Capitol Hill celebration for the Fightin' Blue Hens is Sen. Edward Kennedy.
Click here for photo album
4:06 p.m., March 11, 2004--Rolling out the blue and gold carpet, U.S. Sen. Joseph Biden (D-Del.) sponsored a gala event for the NCAA Division I-AA national champion University of Delaware football team on Wednesday, March 10, in Washington, D.C.
Biden, himself a UD alumnus and former Fightin' Blue Hen football player, took more than two dozen players, coaches, Athletic Director Edgar Johnson and President David and Louise Roselle on a personal tour of the Capitol, which included the introduction of a resolution honoring the team as they watched from the Senate gallery.
Joined by colleagues U.S. Sen. Thomas Carper (D-Del.) and Congressman Michael Castle (R-Del.), Biden then hosted a luncheon that featured presentations and appearances by a "Who's Who" of the U.S. Senate.
From the Senate floor, Biden introduced the resolution, saying, "I stand here with great pride that my alma mater, the University of Delaware, has won the national championship for the NCAA Division I-AA."
Biden told his colleagues that UD has a long tradition of "first-rate football teams," including six national champions, "but none like this team."
He said the Hens had one of the outstanding seasons in college football history, winning 15 games and sailing through the playoffs by outscoring opponents 149-23.
Biden said he felt bad mentioning that UD defeated Colgate University 40-0 in the championship game because Senate Parliamentarian Alan S. Frumin is a Colgate graduate.
Carper, who noted that the Hens could well be "America's Team" given the many home states of the players on the roster, said from the Senate floor that the team provided fans with two moments they will likely never forget, one the gripping 51-45 triple overtime victory over the University of Massachusetts and the other the championship game.
Of the championship contest played Dec. 19 in Chattanooga, Tenn., Carper said he has been to a lot of games in his life but never to one "where everybody on our side of the field stood up" through all four quarters.
"It was just the most incredible spirit I have ever witnessed," Carper said.
After the visit to the Senate chamber, Biden took the contingent into the historic meeting room of the Senate Committee on Foreign Relations and then off to lunch, where they were greeted by a huge banner proclaiming "Welcome University of Delaware 2003 National Football Champs."
U.S. Sen. Hillary Rodham Clinton (D-N.Y.) arrived to congratulate the team and pay off a friendly bet she placed before the championship game, with Biden backing the Hens and Clinton favoring Colgate, which is located in Hamilton, N.Y. The payment, she said, was several cases of "terrific apples" from upstate New York.
Clinton told the team that in recent days Biden had been bubbling over with enthusiasm about the pending visit. "He reminded me often, 'Don't forget, don't forget, the Fightin' Blue Hens are coming,'" she said.
Clinton said she grew up in a football family and so understood the hard work and sacrifice that went into the achievement. "A national championship is a very big deal," she said. "You are the team that accomplished it, and you will always be remembered for that."
UD Head Coach K.C. Keeler presented Clinton with a national championship shirt and hat. "You have a reputation for being very thorough and doing your homework," he started, with Clinton finishing the thought, "I know, how could I have bet against you?"
U.S. Sen. Fritz Hollings (D-S.C.) came to pay his respects, given that UD had defeated Wofford College of Spartanburg, S.C., in the playoff semifinals.
He said he started watching that game on television but had to turn it off with his home state team trailing. "You're the biggest, fastest team I've ever seen," he said. "I think you could beat the Washington Redskins."
Among the players on the tour was UD All-American quarterback Andy Hall, who is from Cheraw, S.C.
U.S. Sen. William Frist (R-Tenn.), the Senate Majority Leader, arrived to tell the team that the resolution in their honor had passed, and then U.S. Sen. Frank Lautenberg (D-N.J.) and U.S. Sen. Arlen Specter (R-Pa.) visited, and both found strong contingents of UD players from their home states.
"I didn't realize this was a political event for me," Specter said, adding he was pleased to be invited to the "luncheon of champions."
The final guest was U.S. Sen. Edward Kennedy (D-Mass.), a former defensive end for Harvard University who told the Hens, "Your team hasn't got any better supporter than Joe Biden. I have been impressed by the devotion and great sense of pride he takes in you."
The lessons learned during the championship season will be an invaluable part of your lives, he said, adding, "Go easy on UMass."
Castle, who joined Biden and Carper in attending many of the team's games in 2003, said the Hens were a special group. "It was clear throughout the season that you were a talented group of athletes," he said. "But, every now and then, something happens in which the individual efforts are transcendent, when the sum of the parts exceeds the whole. It was really fun to watch.
"This has been wonderful for the people of Delaware," he said, "and we thank you, both individually and collectively."
Article by Neil Thomas
Photos by Kathy F. Atkinson
E-mail this article
To learn how to subscribe to UDaily, click here.