Biden urges grads to be informed participants in the world

5:53 p.m., May 29, 2004--This generation's response to foreign policy issues, and particularly terrorism, will define it for all time, U.S. Sen. Joseph R. Biden Jr., (D-Del.) told the University of Delaware's Class of 2004 during Commencement exercises, held Saturday morning, May 29, at Delaware Stadium.

"How we Americans define our new role in the world will affect your daily lives," Biden, a 1965 UD graduate whose class exited campus to a war in Vietnam and a bloody civil rights struggle on American streets, said. "You are required to become informed participants in the debate about what that role should be. But, regardless of whether you become informed participants or not, you will be greatly affected."

The debate in the 1960s centered on the doctrine of the containment of communism and how that applied to Southeast Asia, Biden said, and the debate today centers on the doctrine of military force and unilateralism espoused by neo-conservative intellectuals in the fight against terrorism and weapons of mass destruction.

"In my view," he said, "the 'wise men' of both our graduation days were and are wrong. Unilateralism is no more applicable to fighting terror than the doctrine of containment was to stopping communism in Southeast Asia. Both were born out of wrongly applied lessons, and both were the product of intellectual arrogance."

Both generations leave campus to a world of complexity, confusion and danger, he said. "We wondered, as I know you must wonder, for different—if no less compelling—reasons, if we would have a chance to fulfill our hopes and aspirations," Biden said. "I know that you are very much, as we were in 1968, anxious about the future and dismayed by uncertainty, wanting to do well and wanting to do good, and unsure about the chances of doing either."

Images, often stark images, define people individually and generationally, he said, noting that one of the most compelling images from the 1960s was that of the young Vietnamese girl, Kim Phuc [who spoke at UD in April], who had been burned in a napalm bomb blast.

"Looking back, thinking of these images and the nature of our times, I am more than a little surprised that our optimism was able to be sustained," Biden told the graduates.

That optimism, he said, grew from important lessons taught by his parents, who he described as "gentle and generous people, quick to offer help and slow to judge, but possessed by one absolutely raw intolerance--an instinctive outrage--at the abuse of power and the arrogance that flows from it, at injustice inflicted upon the powerless at the hands of the powerful."

For this generation, Biden said, the world began in many ways during the terrorist attacks of Sept. 11, 2001, and the images created both during the attack and in its aftermath. The images this generation will long remember are those of the planes slicing into the World Trade Center towers, the towers collapsing, firefighters climbing into, not running out of, the rubble and President George W. Bush amidst the debris vowing that the terrorists would hear from us.

More recent images are the bombardment of Baghdad in 2003, the statue of deposed leader Saddam Hussein being toppled and, most recently, the unfortunate images of abuse at Abu Ghraib prison. Those last images, Biden said, "do not speak to who you are and what you believe is fair and just and morally right. Do not let those images stand as symbols of how the world sees us."

Biden encouraged the graduates to be defined not by such images but by their degrees, their days at UD and a thirst for knowledge and justice. "Let it be about a generation that thrives on discovery, on exploration, on invention, a generation that wants to know everything there is to know, see everything there is to see, building everything there is to build, because you are resourceful, committed and curious, because you believe in your capacity to do more and to do better," he said.

Addressing the current war in Iraq, Biden encouraged the graduates to question the assumptions of leaders who promote unilateralism just as a previous generation questioned those leaders who promoted the doctrine of containment. "I urge you to learn as much as you can about the situation in the world and America's strategic responsibilities," he said. "You will have to determine the real threats from terrorism, just as we had to distinguish the real threats from communism, and you will have to start with Iraq."

Biden said the war in Iraq was justified but mishandled, and he called on President Bush to convene a summit of the major powers and to work with Arab nations to prepare Iraq for free elections in 2005.

Crafting a satisfactory resolution to the problems in Iraq is necessary and within our means, Biden said, adding it is the only fitting tribute to the American service men and women who have been killed and wounded there.

Biden ended his speech by quoting poet Seamus Heaney, who wrote:

History says, Don't hope
on this side of the grave.
But then, once in a lifetime
the longed for tidal wave
of justice can rise up,
and hope and history rhyme.

So hope for a great sea-change
on the far side of revenge.
Believe that a further shore
is reachable from here.
Believe in miracles
and cures and healing wells.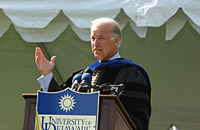 U.S. Sen. Joseph R. Biden Jr.: "In my view, the 'wise men' of both our graduation days were and are wrong. Unilateralism is no more applicable to fighting terror than the doctrine of containment was to stopping communism in Southeast Asia. Both were born out of wrongly applied lessons, and both were the product of intellectual arrogance."

"I believe in you," Biden said.

Preceding Biden's speech, Howard E. Cosgrove, BE '70M, chairman of UD's Board of Trustees, conferred an honorary doctor of laws degree upon the Commencement speaker.

The citation read, in part, "Through years of dedicated service, you have earned recognition and respect as one of the most valued voices on national security and civil liberties, and you have gained national and international acclaim as a policy innovator and advocate on a wide range of important issues. You have served the nation and the world with an inspiring sense of duty and honor."

"This is a high honor and a great privilege," Biden said of the honorary degree, "and, obviously, they didn't look at my grade point index."

Biden earned a bachelor's degree from the University of Delaware in 1965 and since has maintained close ties with his alma mater. He was inducted into the UD Alumni Wall of Fame, which is located in the Perkins Student Center, in 1984.

In recent years, Biden delivered the keynote address at a special forum entitled "Respect and Understand" held Sept. 19, 2001, at the Bob Carpenter Sports/Convocation Center to discuss concerns in the wake of the terrorist attacks on New York City and Washington, D.C., and appeared on MSNBC's "Hardball with Chris Matthews" live from Mitchell Hall on Jan. 15, 2003, as the United States prepared for war in Iraq.

Biden attended last year's Commencement to introduce the guest speaker, George J. Mitchell, a former colleague in the Senate who made his mark in international peace efforts.

He is a vocal fan of the Fightin' Blue Hens football team, for which he played briefly as what he calls a "half-baked halfback," and he said he thoroughly enjoyed the 2003 NCAA Division I-AA national championship run, attending the title game played Dec. 19 in Chattanooga, Tenn., and a campus celebration Feb. 10.

He also thanked the University for giving him his second opportunity in his career to get in the end zone of Delaware Stadium, where the platform group was seated for the ceremony. "It means a great deal to me. I wish I could have gotten here more often and sooner with a ball in my hand."

A beaming Biden served as host to the Blue Hens during a special Senate tour and luncheon held March 10 in Washington.

After graduating from UD, Biden earned a degree in law from Syracuse University, began practicing in Wilmington and entered politics. Following a stint on New Castle County Council, Biden was elected to the U.S. Senate in 1972, defeating Republican veteran J. Caleb Boggs.

Biden is well known for his leadership role on foreign policy and, as the ranking member of the Senate Foreign Relations Committee, is the Democratic Party's chief spokesperson on national security and foreign policy issues.

A strong leader on anti-crime and drug policy, Biden has been instrumental in crafting virtually every major piece of crime legislation over the last decade. He is the author of the Violence Against Women Act of 2000, which contains a broad array of ground-breaking measures to combat domestic violence and provides billions of dollars in federal funds to address gender-based crimes. Chairman of the International Narcotics Control Caucus, he also wrote the law creating the nation's "Drug Czar" who oversees and coordinates national drug control policy.

In 1998, Biden introduced a Senate resolution addressing the problem of binge drinking on college campuses, and cited UD as a leader in efforts to solve the national issue. He was on hand when the Center for College Health and Safety presented UD President David P. Roselle its Presidents Leadership Award for his work in curbing such high-risk behaviors during a ceremony held in March at the National Press Club in Washington.

Biden also is a strong advocate for protection of the environment and his work over the past 20 years has led to the end of federal control and the return to Delawareans of more than 1,180 acres of beach shoreline along the Delaware coast. In 2000, his decades-long efforts culminated with establishment of Delaware's first and only National Wild and Scenic River, the White Clay Creek Watershed, which will be preserved and saved from development for future generations.

Biden has been a staunch supporter of college aid and loan programs, and to prepare today's students to meet the technology challenges of tomorrow, He has undertaken initiatives in the Senate to close the "digital divide" and Biden's "Kids 2000" legislation, signed into law by the president in October 2000, establishes a public/private partnership to help provide computer centers, teachers, Internet access and technical training to young people across the nation, particularly to low-income and at-risk youth.

Article by Neil Thomas
Photos by Kathy Atkinson
E-mail this article
To learn how to subscribe to UDaily, click here.