UDaily is produced by the Office of Public Relations
150 South College Ave.
Newark, DE 19716-2701
(302) 831-2791

Beckett Festival to feature playwright's foremost interpreters
2:13 p.m., Sept. 15, 2003--An English actress and a French director who are among the world's foremost interpreters of the works of Samuel Beckett will be featured at a three-day festival celebrating the Nobel Prize-winning author, scheduled Oct. 9-11, at the University of Delaware.
Billie Whitelaw

The festival is being held in conjunction with the University Library's Special Collections exhibition of materials from the recent gift by Sir Joseph Gold of his distinguished private Beckett collection. For more about the exhibition, click here. The University of Delaware Samuel Beckett Festival will feature a retrospective performance by Billie Whitelaw on her long association with Beckett as his actress of choice, and a revival of Beckett's one-man play "La Dernière Bande," by French artist and director Pierre Chabert , recreating his role as Krapp, in which Beckett directed him in 1975. In addition, Beckett's longtime friend and premier interpreter of his work, Ruby Cohn will provide the keynote address for the festival.

A lecture by the editors of Beckett's correspondence will specifically honor Sir Joseph's achievement as a collector, and three panel sessions featuring leading figures in Beckett scholarship and performance will explore how Beckett's innovative work has opened new perspectives on and approaches to the activities of literary interpretation, translation and performance.

In addition, filmed performances of Beckett's works will be screened during the festival. For information about the films, click here.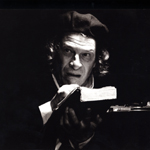 Pierre Chabert

Festival coordinator, Robert Bennett, professor of English at UD, said, "This festival celebrates the Gold Collection through the living legacy of Beckett performers and scholars who benefit from it and communicate to others the enriching art and vision of Samuel Beckett. It offers a rare, perhaps unique, opportunity to hear from and talk with six persons who were Samuel Beckett's professional associates and friends along with seven other leading figures in the world of Beckett studies and performance."

Considered by many the most important and influential writer of the 20th century, Beckett (1906-89) was born in Dublin and educated at Trinity College. In the 1920s, he emerged as a writer of note in Paris, where he met James Joyce and became his literary assistant. In 1953, his play "En attendant Godot (Waiting for Godot)" opened first to puzzlement and then to acclaim in Paris. Productions in London and New York brought him international recognition and secured his reputation as a writer of significance. In 1969, he received the Nobel Prize in literature "for his writing, which-in new forms for the novel and drama–in the destitution of modern man acquires its elevation."

The festival schedule includes:

Thursday, Oct. 9
4 p.m.: An inaugural address by Cohn on "Saint Sam Beckett," in 201 Lammot du Pont Laboratory.
8 p.m.: Performance, in French, of "La Dernière Bande (Krapp's Last Tape)" by Chabert, in Hartshorn Hall. This performance is free, but reservations are recommended; to reserve tickets, call the Hartshorn Hall box office at 831-2204.
Friday, Oct. 10
10 a.m.: Panel on Criticism and Scholarship, with Tom Cousineau, professor of English at Washington College; S.E. Gontarksi, Sarah Herndon Professor of English at Florida State University; and Enoch Brater, professor of English at the University of Michigan, in Bayard Sharp Hall.
3 p.m.: Lecture on "The Correspondence of Samuel Beckett: Archival Adventures" by Lois Overbeck and Martha Fehsenfield, research associates in the Graduate School of Arts and Sciences at Emory University and editors of "The Correspondence of Samuel Beckett," in the Reserve Room of the Hugh M. Morris Library.
8 p.m.: "An Evening with Billie Whitelaw," Beckett's actress of choice in a program of readings and reminiscing in Mitchell Hall. Tickets are required for this event only; to reserve tickets call the Hartshorn Hall box office at 831-2204.
Saturday, Oct. 11
9 a.m.: Panel on Translation, with Lois Oppenheim, professor of French and chair of French, German and Russian at Montclair State University; Tom Bishop, Florence Lacaze Gould Professor of French and department chair at New York University; and Jean-Michel Rabaté, professor of English at the University of Pennsylvania, in Bayard Sharp Hall.
10:45 a.m.: Panel on Performance, with Chabert; Daniel Labeille, professor of theatre and director, producer and executive producer of the filmed rehearsal and performance of "Rockaby," which featured Whitelaw; and Xerxes Mehta, professor of theatre at the University of Maryland, Baltimore County, and founding director of the Maryland Stage Company, in Bayard Sharp Hall.
Exhibition
The UD Library's Sir Joseph Gold Samuel Beckett Collection is featured in a special exhibition, "Samuel Beckett: A Celebration," [make the title a hotlink to the exhibition story] on view now through Dec. 19 in Special Collections at the University's Morris Library. Gold, who donated his collection to UD before his death in 2000, was a noted legal scholar and retired general counsel and director of the legal department of the International Monetary Fund. Passionate about literature, he was a renowned collector of works by and about contemporary writers and poets, but his greatest enthusiasm was for Beckett.
The Gold Collection of more than 3,000 items devoted to the Irish author includes first editions and bibliographically significant editions of books, play scripts, periodicals, theatrical ephemera and other material.
Films
"Beckett on Film: 19 Films x 19 Directors" and "Rockaby" will be screened on Oct. 9 and 10 in the Media Viewing Room on the lower level of the Morris Library. To see the film brochure, visit [www2.lib.udel.edu/new/beckett%20film%20brochure.htm].
Sponsors
The Samuel Beckett Festival is sponsored by the Delaware Division of the Arts, the Delaware Humanities Forum, the University of Delaware Library Associates and UD's College of Arts and Science, departments of English, Foreign Languages and Literatures, and Theatre, the Faculty Senate Committee on Cultural Activities and Public Events, Center for International Programs, the Library and Embassy Suites Newark and South Wilmington Hotel.
All events in the festival, except "An Evening with Billie Whitelaw," are free and open to the public. Tickets for the Whitelaw performance are $15 for the general public, $10 for UD faculty, staff and seniors and $5 for UD students and are available at the Hartshorn Hall box office, located at the corner of Academy Street and East Park Place, telephone 831-2204. Box office hours are 10 a.m.-5 p.m., Mondays through Fridays. Ticket fees may be waived on the basis of financial need, as per arrangements with the Delaware Humanities Forum. For information on waiving of ticket fees, call 302-831-2202.
For details on all events, visit the web site at [www.English.udel.edu/beckett].
E-mail this article
To learn how to subscribe to UDaily, click here.

[an error occurred while processing this directive]