UDaily is produced by the Office of Public Relations
150 South College Ave.
Newark, DE 19716-2701
(302) 831-2791

UD curator explores the art of Romare Bearden in current issue of The Crisis
3:45 p.m., Nov. 6, 2003--Amalia Amaki, UD assistant professor of Black American Studies and curator of the Paul R. Jones Collection, explores the political side of African-American artist Romare Bearden, in an article published in the current issue of The Crisis. There are several Romare Bearden works in the Paul R. Jones Collection.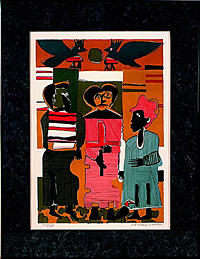 Firebirds, 1979, 28 " x 24" lithograph by Romare Beardon (1911-88), © The Paul R. Jones Collection, University of Delaware
Focusing on both the artist and his art, Amaki traces Bearden's origins from his birth in Charlotte, N.C., in 1911 to his activism in the '60s. By concentrating on his subject matter and style, Amaki outlines how Bearden's art embodies the principles of the civil rights struggle in America.

Amaki makes her case by drawing from a range of work created at different periods in Bearden's career and examines how his artwork and activism gave increased visibility to black Americans in the mid and late 20th century.

A retrospective of Bearden's paintings and collages will be on exhibit at the National Gallery of Art in Washington, D.C., through Jan. 4.

Amaki is a graduate of Georgia State University and holds a bachelor's degree in photography from the University of New Mexico and master's and doctoral degrees from Emory University. She was a National Endowment for the Arts fellow in photography and was named Georgia Woman in the Arts in 1997.

Known for her large fabric creations, Amaki has work exhibited in the High Museum of Art, the Sam Nunn Federal Center and Hartsfield International Airport, all in Atlanta. She currently is working on a book about the Paul Jones Collection and is completing work on the history of all-Black exhibitions in America.

Article by Becca Hutchinson

E-mail this article
To learn how to subscribe to UDaily, click here.