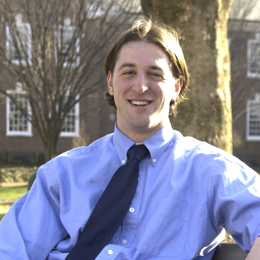 3:45 p.m., March 27, 2003--It's easy to see that Bryan Townsend of Newark will make a mark on the world someday. The only question is where.

The latest University of Delaware student to win a prestigious Truman Scholarship, Townsend has three majors, three minors and is getting a bachelor's and master's degree simultaneously. He first planned to be a doctor. Now he might be a lawyer. Making public policy, especially in the area of health care, is a definite interest, and politics is a possibility—well, maybe.

"My parents and my advisers keep stressing that eventually I'll have to make up my mind," he said, but for now, it's the learning—the soaking up of all the possibilities—that's important.

"I want to express my thanks to the University faculty and staff for entertaining my sometimes wacky ideas to combine programs and disciplines, to push the envelope in new directions and to new degrees. So many have been there for me, encouraging my growth and ideas. In general, the University has been most supportive of my endeavors, seeing to it that the only limits I face are those I place on myself. What a dream, to be a student who sets the bar for himself!" he said.

Townsend, a junior in UD's Honors Program, comes from a true blue (and gold) family. His parents, Charles (Jeff) and Judi May Townsend, are both UD alumni, as is brother Eric, who graduated in 2001. Brother Brett is a sophomore at UD, and brother Brandon, the youngest in the family, is a freshman.

Townsend will earn a bachelor and master's degree in economics this spring. He will return next year to finish work on bachelor's degrees in philosophy and biology. Somewhere along the way he also has picked up minors in history, religious studies and medical humanities.

His adviser in the Honors Program, associate director Jama Allegretto-Lynch, said combining Townsend's many interests into degree programs was an exciting challenge.

"Bryan has so many interests, is so talented, and has such a great love of learning that virtually every time he turns around he finds something else he wants to study," Allegretto-Lynch said. "He has worked extensively with so many faculty advisors in various academic disciplines that my main role has been to help him try to fit all of his curricular interests into a workable academic plan."

Alan Fox, UD associate professor of philosophy and one of the professors Townsend credits with his success, said, "I have been at UD for 13 years and I have taught close to 10,000 students in that time. Bryan is clearly and distinctly one of the very best students I have ever taught. He is not just cracklingly intelligent, he is also one of the hardest working and most sincere and motivated students I have seen. And, on top of that, he is a great guy.

"He constantly challenges me to be a better teacher, and for that I am grateful," Fox said.

Underpinning all of his work, Townsend said, is a quest to study the philosophy of health and health care. His interest in biology is driven by his need to understand the basics of human health; his attention to economics derives from an interest in the business side of health care delivery; and he is drawn to philosophy by an interest in Asian traditions and Eastern methods of treating the whole person.

Applicants for the Truman Scholarship must develop a public policy proposal and address it to an appropriate committee or person in government. Townsend developed a health-care proposal designed to decrease the price of prescription drugs.

Townsend's interest in public service extends back to his volunteer activities at Glasgow High School, including involvement with Special Olympics.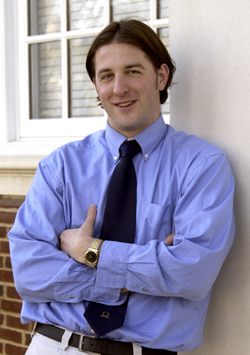 Truman Scholar Bryan Townsend: "My overall goal is to be able to help people as directly as possible. That may mean politics; it may mean leadership in a government agency; it may mean law or medical school."
"Volunteer work really charges me," he said. "It's amazing to get out there and work in peoples' lives. Coming to UD and learning that my classroom studies can extend my abilities to help others was a real revelation. Before the idea of public service, I knew I would always be a volunteer, but now I can see things at the next level.

"My overall goal is to be able to help people as directly as possible. That may mean politics; it may mean leadership in a government agency; it may mean law or medical school," he said.

At UD, Townsend has taken advantage of many opportunities to study abroad. He studied economics for a semester in Ireland, toured key European cities during a Winter Session economics trip and just returned from Antarctica where he studied communication and photography. One summer he spent a week at a U.N. summit in South Africa, and he plans to squeeze in one more study abroad trip to Tanzania to study more photography and bio-conservation next Winter Session.

In his spare time, Townsend, who spends his summers employed by Christiana Care Health Services Research Group where, he helps develop health-care programs, enjoys reading, bidding for historic books on eBay, and, of course, traveling. A recent bad landing has turned his taste for skydiving to scuba diving, and he said he also enjoys intramural sports.

Asked to name a mentor at UD, Townsend can't settle on one. He mentions Fox as the person who "fosters the fire in me that burns to aid others." He also lists five other professors as influential in his life—Susan Groh, chemistry and biochemistry; David Smith, biological sciences; David Black, economics; Kenneth Lewis, economics; and Charles Link, economics—along with several people in the UD Honors Program.

Truman Scholarships honor outstanding college juniors with exceptional leadership potential who are committed to careers in government, the nonprofit or advocacy sectors, education or elsewhere in the public service. This year 76 scholars were chosen from 635 applicants.

Previous UD Truman Scholars have included Simone Delerme of Wilmington (2002) and David Kovara of Flemington, N.J. (2001).

The award provides a $3,000 award for study during the senior year and $27,000 for graduate school. Townsend will use his grant to pursue a Ph.D. in economics, or maybe to attend law school or medical school. The possibilities are endless.

Article by Beth Thomas
Photo by Kathy Flickinger