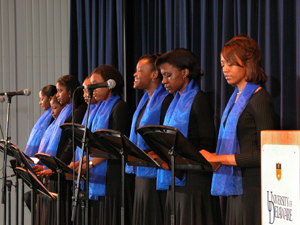 Resonance
3:30 p.m., March 19, 2003--An emotion-stirring performance and thought-provoking words marked the second annual Paul R. Jones Lecture, held Tuesday, March 18, in the Trabant University Center Theatre, in conjunction with "The Magnificent Seven," an exhibition of works from the Paul R. Jones Collection that is on view through May 31 in the Perkins Student Center.


Featured in the program were Resonance, a verse choir composed of students from Spelman College, and Gloria Wade Gayles, Eminent Scholar's Chair in Independent Study, Scholarship and Service Learning at Spelman College.


Resonance opened the evening with "A Tribute to Martin," a performance in words and song that surveyed the African-American experience. Built around the repeating phrases "These are revolutionary times," "We will not turn back" and "I am a witness" and interspersed with bits of Negro spirituals, the performance won a standing ovation from the audience.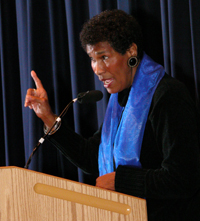 Gloria Wade Gayles
An essayist, poet, cultural historian, novelist, editor, orator, teacher and director of Resonance, Gayles opened her remarks by telling the UD audience, "You have something very good here, and we're honored to share it with you tonight."

Touching on topics ranging from the importance of art to one of her areas of study, the role of women in African-American literature, Gayles focused her talk around the importance of reading.

"You must be deliberate readers," she said, adding that, during centuries of slavery, African-Americans saw literacy as their path to freedom.


She prescribed a regimen of reading at least 15 minutes each day and told students that, in addition to collecting CDs, they should be collecting books. "That is how Paul Jones built his art collection–one piece at a time," she said.

Gayles concluded her speech by telling the audience, "You must study, you must read, you must decide how you stand on every issue. You cannot be disinterested." She also received a standing ovation.

Upcoming events associated with "The Magnificent Seven" exhibition include a campus reception from 5:30-7:30 p.m., Wednesday, March 19, and a community reception from 6-8 p.m., Thursday, March 20, both in the West Gallery of the Perkins Student Center, and a fireside chat with artist Edward Loper from 7-9 p.m., Friday, March 21, in the East Lounge of the Perkins Student Center. All events are free and open to the public.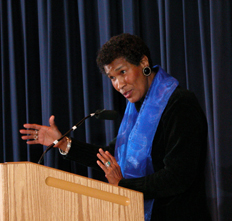 "The Magnificent Seven," sponsored by The News Journal, is on view from noon-4 p.m., Mondays through Fridays, in the West Gallery of the Perkins Student Center. Visit the exhibition web site at [www.udel.edu/PaulRJonesCollection/].

Photos by Duane Perry