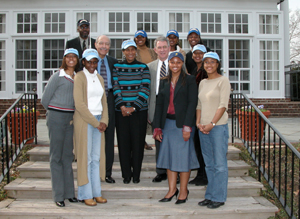 Shown sporting Delaware caps are (front row, from left) Jessica Palmer; Ayo Cummings; Yomi Adesanya; and Hatshepsitu Tull; second row, collector Paul Jones; Gloria Gayles, Eminent Scholar's Chair at Spelman College; UD President David P. Roselle; and Jennifer Freeman; and third row, Arthur L. McClenton of Morris Brown College; Amalia Amaki, curator of the Paul R. Jones Collection; Radia Turay; and Leslie Ibeanusi.
5:10 p.m., March 18, 2003--Gloria Gayles, Eminent Scholar's Chair in Independent Study, Scholarship and Service Learning, at Spelman College in Atlanta and members of Spelman's Resonance verse choir had lunch at the President's House Tuesday afternoon, March 18, before their evening performance at the Trabant University Center. The program, a performance and lecture, is one of many special events in conjunction with "The Magnificent Seven: Hayward Oubre's Students—Works From the Paul R. Jones Collection" art exhibition, on display in the gallery of Perkins Student Center through May 31.

Spelman's Resonance choir performs original scripts that blend spoken words and melodic lines from African history and culture. The goal of each performance is "to celebrate the distinctive African-American legacy of triumph and achievement."

"A Tribute to Martin" takes listeners on a journey from the Middle Passage through the Civil Rights movement of the 1960s to a 21st-century vision of peace and understanding. Two Spelman alumna will join in the performance, and the group will be accompanied by flutist Arthur McClenton, of the music faculty at Morris Brown College in Atlanta.