HIGHLIGHTS

UDAILY is produced by
the Office of Public Relations
150 South College Ave.
Newark, DE 19716-2701
(302) 831-2791
Four grad students awarded NASA Space Grant fellowships
10:30 a.m., June 30, 2003--Four University of Delaware graduate students have received National Aeronautics and Space Administration (NASA) Delaware Space Grant College Consortium (DESGC) 12-month fellowships. They are Brian Dzwonkowski of Red Bank, N.J, oceanography; Ronald G. Egres Jr. of Charlestown, Md., chemical engineering; Mary D. Lemcke of Newark, geography; and Michael Zellner of Slatington, Pa., materials science and engineering.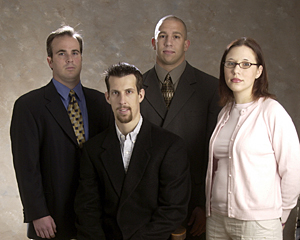 NASA Space Grant Fellows (from left) Ronald G. Egres Jr., Brian Dzwonkowski, Michael Zellner and Mary Lemcke

Dzwonkowski received his bachelor's degree in mathematics from the College of New Jersey. He joined UD's College of Marine Studies in the fall of 2001 and is working in Center for Remote Sensing. His current research focuses on improving coastal management plans through the incorporation of satellite-based remote sensing.

More specifically, his research involves developing improved algorithms for the SeaWiFS ocean color sensor for coastal waters. The SeaWiFS sensor can provide accurate information on chlorophyll-a concentrations in the open ocean. However, increased suspended sediment and organic matter and bottom reflectance present an optically complex environment, which creates difficulties for SeaWiFS data-processing algorithms. By improving the algorithms, a better understanding of the biomass and primary production of these regions can be achieved.

Egres received his bachelor's degree in chemical engineering from Michigan State University and his master's degree in chemical engineering at UD, while employed with W. L. Gore & Associates Inc. His doctoral research into the fabrication of less bulky and more flexible protective body armor has practical applications for the military and law enforcement and also could protect astronauts and space craft components from orbiting debris impacts during space exploration.

Egres' research involves investigating the rheological and microstructural properties of concentrated colloidal dispersions. Of particular interest is the behavior of these fluids when subjected to high stresses, which can result in a stress-induced shear thickening transition in fluid microstructure to a highly viscous, structured material.

Lemcke received her bachelor's degree in geological sciences from Albion College in Albion, Mich., and a master's degree in geography from UD. Her thesis research focused on determining the paleoclimatic significance of geomorphic features located in Northern Delaware.

Her current research involves comparing ship-based Antarctic sea ice observations with satellite observations to determine the quality of the satellite data for use in monitoring changes in sea ice thickness and mass balance on a climatological scale.

Zellner received his bachelor's degree in physics from Millersville University in Pennsylvania. He joined the materials program at UD in the fall of 2000 and is currently working on developing substitute catalyst materials to replace the expensive platinum/ruthenium anodes used in hydrogen fuel cells.

The task of an anode catalyst in fuel cells is to dissociate hydrogen molecules into two positively charged hydrogen ions and two electrons. Fuel cells then extract power by sending the electrons and hydrogen ions along two separate paths to eventually be recombined with air forming water as a byproduct. By developing a cheaper alternative material to act as a catalyst in place of the expensive platinum/ruthenium anode, the cost of fuel cells will be reduced, increasing the overall power generation to expense ratio.

The DESGC was established in 1991 to administer NASA's National Space Grant College and Fellowship Program. The Bartol Research Institute at UD receives an annual NASA grant for programs supporting space research, education, outreach, student scholarships and fellowships and special initiative programs. NASA support is matched by member and affiliate contributions. Since its inception, the DESGC program has supported 27 space grant fellows and has awarded 45 fellowships.