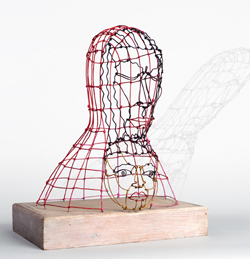 "Miscegenation," wire sculpture, by Hayward Oubre, 1963

11:40 a.m., March 24, 2003--"The Magnificent Seven: Hayward Oubre's Students–works from the Paul R. Jones Collection" is on display through May 31 from noon to 4 p.m., Mondays through Fridays, in the gallery of the Perkins Student Center.

The exhibition of approximately 40 works includes paintings, drawings, sculpture, photographs, prints and mixed media by Oubre, then an art professor at Alabama State College (now University) and his students William Anderson, Herman Bailey, Arthur Britt, Floyd Coleman, John Feagin, Paul Gary and Harper T. Phillips.

Hayward Louis Oubre, Jr. (1916- ) is a sculptor, painter, printmaker, educator, author and civil servant known for his contributions to the art world and the color wheel (a clarified approach to color mixing and color relationships). Among his renowned works are his wire sculptures: Prophet, Young Horse and Convolutions.

Oubre, was born in New Orleans, grew up in the city and attended local schools. In 1939, he was the first art major to earn a bachelor's degree from Dillard University. He continued his art studies at the prestigious, predominantly black Atlanta University, where he studied with two great artists, Harlem Renaissance sculptor Nancy Elizabeth Prophet and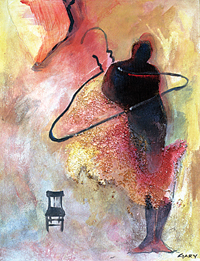 "Hanger Series #2," mixed media, by Paul Gray, 2002

painter/muralist Hale Woodruff.

In 1940, he ventured to Tuskegee Institute to assist in putting some artistic work in the new student union being built on the campus. His stay was cut short when he was drafted into the Army in 1941 and sent to Alaska to help build the Alcan Highway, a 1,523-mile military supply route that extends from British Columbia to Fairbanks.

After his military tour of duty, Oubre returned home to complete his education under the G.I. bill and became the third African-American to receive a master's of fine arts degree from the University of Iowa.

He went on to teach at Florida A&M University (1948), Alabama State College (now University) (1949-1965) and Winston-Salem State University (1965-1981). After retiring from the Winston-Salem State faculty in 1981, Oubre returned to the school to serve as curator of the Selma Burke Art Gallery, once located on the campus.

The imagination and creativity displayed in Oubre's work has earned him more than 50 exhibits, including permanent collection status at Atlanta University, and numerous awards including: Who's Who in American Art, Who's Who in Black America and North Carolina's highest honor, the Order of the Long Leaf Pine.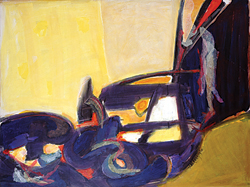 "Still Life," oil on canvas, by John Feagin, 1998


The free public exhibit is sponsored by the News Journal.


For more information on the exhibition and the Jones Collection, contact curator Amalia Amaki, assistant professor of Black American Studies at UD, at (302) 831-4075 or via e-mail at [amaki@udel.edu].



Article by Beth Thomas

Art: © The Paul R. Jones Collection, University of Delaware