UDAILY is produced by the Office of Public Relations
150 South College Ave.
Newark, DE 19716-2701
(302) 831-2791

Special events scheduled for 'Magnificent Seven' art exhibition at UD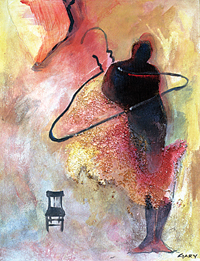 "Hanger Series #2," mixed media, by Paul Gray, 2002
11:25 a.m., March 10, 2003--Several special events offered in conjunction with "The Magnificent Seven: Hayward Oubre's Students–From The Paul R. Jones Collection" art exhibition, now on display at the University of Delaware, have been rescheduled due to inclement weather.

The events, all free and open to the public, include a lecture by Gloria Gayles of Spelman College with an appearance by the Spelman verse choir, a campus community reception and a fireside chat with Wilmington artist Edward Loper.

Gloria Gayles lecture March 18
UD continues its relationship with Spelman College in Atlanta when Gayles, Eminent Scholar's Chair in Independent Study, Scholarship and Service Learning at Spelman, becomes the first faculty member of the historically black college to speak on the UD campus.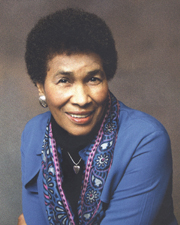 Gloria Gayles
Her talk, "Go Where I Send Thee: Walking Anew in Furrowed Paths of Excellence and Leadership," stressing the importance of mentoring, will be held at 7:30 p.m., Tuesday, March 18, in the theatre of the Trabant University Center. Also appearing on stage will be Resonance, the Spelman College verse choir, which will present "A Tribute to Martin."


Gayles, a prolific writer, has published numerous essays, poems and critical reviews and is the author of the books "My Soul Is a Witness: African-American Women's Spirituality," "Fathersongs: Testimonials by African-American Sons and Daughters," "Rooted Against the Wind: Personal Essays," "No Crystal Stair: Race and Sex in Black Women's Fiction," "Pushed Back to Strength: A Black Woman's Journey Home" and "Anointed to Fly," a collection of poems. She also is a contributor to "Go Girl," an anthology of international travel experiences by African-American women.

Before joining the faculty at Spelman, Gayles was the RosaMary Eminent Scholar's Chair in Humanities and Fine Arts at Dillard University. She also has served as a visiting professor of English and women's studies at Emory University, an associate professor of English and women's studies at Spelman, an adjunct professor of African-American studies at Emory University, a visiting professor of English and a research assistant at Talladaga College, an assistant professor of English at Morehouse College and an adjunct faculty member at George Washington University.


Gayles has been honored as a master teacher of nonfiction at the Tennessee Williams Literary Festival, as a nonfiction writer in residence at the Wright Hurston Writers' Conference and received an honorary doctor of humane letters from Meadville Theological School of Lombard College at the University of Chicago.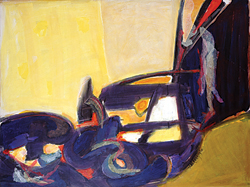 "Still Life," oil on canvas, by John Feagin, 1998
She is a member of Phi Beta Kappa and received the Emory Medal for distinguished scholarship and service to Emory University. In 1981 she was named Professor of the Year for the state of Georgia by the Council for Advancement and Support of Education (CASE). Gayles also received the President's Award for Outstanding Scholarship from Spelman in 1991 and Morehouse College's Outstanding Teacher of the Year Award in 1974.

She is a sought-after speaker, serves on numerous boards and holds memberships in many prestigious professional associations.

Verse Choir to perform March 18
Spelman's Resonance choir performs original scripts that blend spoken words and melodic lines from African history and culture. The goal of each performance is "to celebrate the distinctive African-American legacy of triumph and achievement."

"A Tribute to Martin" takes listeners on a journey from the Middle Passage through the Civil Rights movement of the 1960s to a 21st-century vision of peace and understanding. Two Spelman alumna will join in the performance, and the group will be accompanied by flutist Arthur McClenton.

Campus and community receptions March 19 and 20
Members of the community are invited to view the exhibition during a special Campus Community Reception from 5:30-7:30 p.m., Wednesday, March 19, in the gallery of the Perkins Student Center. A community reception will be held from 6-8 p.m., Thursday, March 20 at the gallery.

Fireside chat with Edward Loper March 21
Wilmington artist Edward Loper Sr. will discuss his work in a fireside chat from 7-9 p.m., Friday, March 21, in the Center East Lounge of the Perkins Student Center.

In "The Prophet of Color," a book by Marilyn A. Bauman details that Loper's life and work, James E. Newton, UD professor of Black American Studies, says, "The artwork of Ed Loper is an important, but missing, chapter in American art history…firecely independent and a rugged individualist, Loper is an important African-American artist from Delaware."


Other events planned in conjunction with the exhibition that are open to UD students include residence hall discussions, an opportunity to share pizza with art collector and UD benefactor Paul R. Jones, and Club Night, an evening of fun and celebration in the Perkins Student Center.

In addition, a series of special campus events this spring, including Alumni Spring Reunions and Honors Day, will include visits to the "Magnificent Seven" exhibition.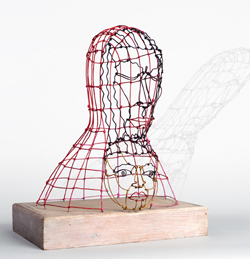 "Miscegenation," wire sculpture, by Hayward Oubre, 1963
The "Magnificent Seven" exhibition of approximately 40 works includes paintings, drawings, sculpture, photographs, prints and mixed media by Oubre, then an art professor at Alabama State College (now University) and his students William Anderson, Herman Bailey, Arthur Britt, Floyd Coleman, John Feagin, Paul Gary and Harper T. Phillips.

The exhibition, free and open to the public and sponsored by the News Journal, can be viewed through May 31, from noon to 4 p.m., Mondays through Fridays, in the gallery of the Perkins Student Center.

Visit the exhibition web site at [www.udel.edu/PaulRJonesCollection/].

For more information on the exhibition, the events or the Jones Collection, contact curator Amalia Amaki, assistant professor of Black American Studies, at 831-4075 or via e-mail at [amaki@udel.edu].

Article by Kristi Hook, AS 2003