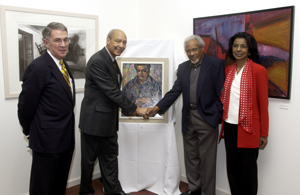 At the presentation, from left, UD President David P. Roselle, collector Paul R. Jones, artist Edward Loper Sr. and Carole C. Marks, director of the Black American Studies Program.
5:00 p.m., March 24, 2003--UD's Paul R. Jones Collection, currently featured in "The Magnificent Seven" exhibition at the Perkins Student Center, is widely known as one of the largest collections of African-American art in the world. And, it's still growing.

At a special event Friday, March 21, held in conjunction with the exhibit, Wilmington artist Edward Loper Sr. became the first Delaware artist to be added to the collection.


At the event, billed as a "Fireside Chat with Edward Loper," Carole C. Marks, director of UD's Black American Studies Program, announced that the program, with the help of several friends, had bought two Loper paintings to give to Paul Jones, who, in turn, gave them to the University for the collection. The paintings are "Portrait of Benoit Coté" and "Winter Still Life," a view of the snow from his dining room window that he painted this winter.

UD President David P. Roselle said, "It is particularly fitting that this Delaware native, who was born in Wilmington in 1916, will be the first Delawarean represented in this distinguished collection that now calls the First State home."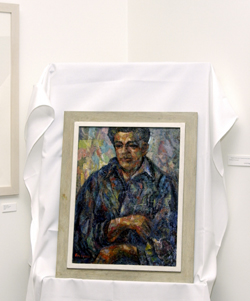 Joining the Paul R. Jones Collection is "Portrait of Benoit Coté ."
Roselle said that when a current $4.6 million renovation of Mechanical Hall is complete next spring and the Paul R. Jones Collection moves into its new home there, the University will transfer to the Jones Collection a third Loper painting, "Buildings," which has been part of UD's Permanent Art Collection since 1967.

At the reception, Marilyn Bauman, author of a book about Loper's life and work entitled "The Prophet of Color,"described the artist's career and introduced him.


"I have a dedication that I want all people to learn how to appreciate art," Loper said, "and that, those who wish to, learn to create art with real human expression."

"The Magnificent Seven: Hayward Oubre's Students—From the Paul R. Jones Collection," features approximately 40 works, including paintings, drawings, sculpture, photographs, prints and mixed media, by Oubre and his students William Anderson, Herman Bailey, Arthur Britt, Floyd Coleman, John Feagin, Paul Gary and Harper T. Phillips.


Sponsored by The News Journal, the free public exhibit is on view from noon-4 p.m., Mondays though Fridays, in the Perkins Student Center Gallery. The exhibit will be closed during spring break from March 31 through April 4.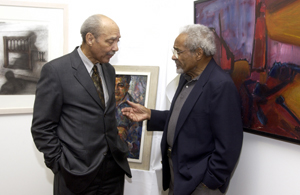 The colllector and the artist: From left, Paul R. Jones and Edward Loper Sr.

For more information on the exhibition or the Jones Collection, contact curator Amalia Amaki, assistant professor of Black American Studies, at 831-4075 or via e-mail at [amaki@udel.edu].

Photos by Kathy Flickinger