Click here to see photo album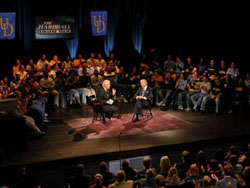 12:53 a.m., Jan. 16, 2003-- Chris "Hardball" Matthews came out swinging Wednesday night at UD and a standing-room-only Mitchell Hall crowd loved it.
The MSNBC political talk show host welcomed special guest U.S. Sen. Joseph R. Biden Jr. (D-Del.) to the stage with a terse, "Looks like you're running for president."
Biden, a UD alumnus, didn't miss a beat. "I'm considering it," he said, but then went on to praise other Democrats who already have said they are candidates. "It'll be a late announcement, if I make one," Biden said. "I don't have the ambition I did when I was younger to be president."
Matthews brought his "Hardball College Tour" to the UD campus for an hour-long interview session with Biden. Throughout the broadcast, Matthews threw one fastball after another, trying to catch Biden off balance.
"Should race be used as a basis for admitting kids to school?" Matthews asked.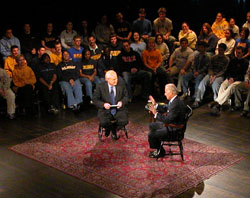 "Yes," Biden shot back. "If you want to do away with preferences, do away with all of them."
"What evidence do you need from the president [to support a war in Iraq]?" Matthews asked.
"One thing I learned during my days here during the Vietnam War era is that no matter how well-thought-out your foreign policy is, you can't sustain it if the people aren't well-informed," Biden said.
Matthews also gave UD students a chance to pose some tough questions for Biden.
"Will you support reinstating the draft?" one student asked.
"I may have to if our military becomes overextended around the world," Biden said.
"Do you think North Korea is a greater threat than Iraq?" another asked.
"I do," Biden said. "They have a whole lot of plutonium."
Matthews also asked the audience to voice its opinion. "Do we have enough evidence to go to war with Iraq?" "No" was the response indicated by applause. "Should the U.S. go it alone?" Again the audience voted "no" with its applause.
During commercial breaks in the broadcast, the crowd was entertained by the UD Pep Band, cheerleaders and UD mascots YoUDee and Baby Blue.
A line of students who wanted to attend the live 9 p.m. telecast began forming before 6:30 p.m. outside Mitchell Hall, which has seating for 650. Another 75 students sat on the stage behind Matthews and Biden during the broadcast and scores of others stood along the walls. An estimated 500 could not be accommodated in the standing-room-only hall.
The overflow crowd was invited to watch the broadcast in Gore Hall. About 250 did so. They were visited after the broadcast by Matthews and Biden, who talked and answered questions for about a half hour.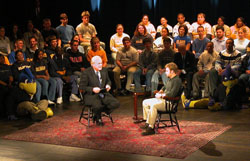 UD student Michael Bogucki in the "Hardball Hot Seat."
UD student Michael Bogucki of Wilmington went head-to-head with Matthews in a 90-second, rapid-fire quiz called "Hardball Hot Seat," which covered current events, history, geography, science, pop culture and more. The segment, which was taped after the live broadcast, will air Thursday, Jan. 16, on "Hardball."
Matthews challenges a student at each stop of the "Hardball College Tour," and the student who eventually answers the most questions correctly will win a scholarship. Currently, Ben Recchie of the University of Chicago is leading the pack with 15 correct answers out of 23 questions.
At 11 p.m., a cluster of students and other well-wishers were still talking to Biden in the parking lot by Hullihen Hall.
Article by Larry Elveru
Photos by Kathy Flickinger and Duane Perry