HIGHLIGHTS

UDAILY is produced by
the Office of Public Relations
150 South College Ave.
Newark, DE 19716-2701
(302) 831-2791
Delaware's Rich Gannon is now a Super Hen
12:05 p.m., Jan. 21, 2003--Rich Gannon is now a Super Hen.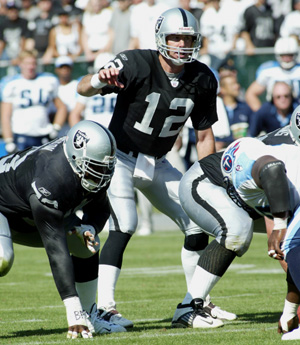 Gannon, a former star quarterback for the University of Delaware, has led the Oakland Raiders to Super Bowl XXXVII in San Diego, where they will meet the Tampa Bay Buccaneers to decide the National Football League champion.

Kickoff is set for 6:18 p.m., Sunday, Jan. 26, at San Diego's Qualcomm Stadium.

The Raiders advanced to the Super Bowl by defeating the Tennessee Titans 41-24 for the American Football Conference championship.

In that game, Gannon tossed three touchdowns and ran for another. He hit 29 completions in 41 attempts for 286 yards, and did not throw an interception.

Gannon has had a stellar season, having been named the NFL's Most Valuable Player and voted a quarterback on the AFC's Pro Bowl team.

To keep up with Gannon as he prepares to battle for the title, log on to [www.raiders.com].