11:25 p.m., March 26, 2003--This year the University of Delaware has had the largest and strongest pool of applicants in its modern history with approximately 8,900 freshmen offered admission for the fall of 2003, according to Lou Hirsh, director of admissions.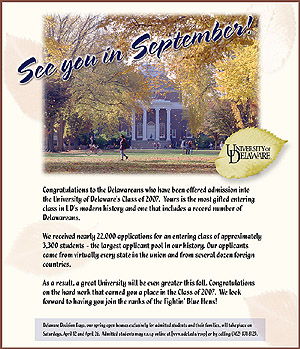 Click image to enlarge
"The increase has come primarily at the upper end—fewer weak students applied than in previous years, but there were many more stronger students applying," Hirsh said.

"The surge in the number and quality of our applicants is mainly due to the University's excellent reputation and our success at getting that message across to prospective students, parents and guidance counselors," Hirsh said, citing Blue Hen Ambassadors, faculty who participate in on-campus programs and UD's beautiful campus as making an impression on the thousands of high school students and parents who visit the University.

"What our visitors see are a committed faculty and enthusiastic students, and, of course, they also see one of the most stunningly beautiful campuses in the country," Hirsh said.

Statistics, comparing the applicant pools of 1998 and 2003, tell part of the story.
For the fall of 1998, 15,406 students applied at UD with an average SAT score of 1120, and 533 students had SAT scores of 1400 or more.


For the fall of 2003, 21,769 students applied (an increase of 41 percent), with average SAT scores of 1158 (an increase of 38 points), and 856 students had SAT scores over 1400 (a 38 percent increase).

The average SAT scores of those admitted to UD in 1998 was 1168, compared to 1225 in 2003, an increase of 57 points.

"The class admitted for the fall of 2003 is a more diverse class—geographically and ethnically," Hirsch said. "We received more out-of-state applications than any other public university and have admitted students from all 50 states and from 17 foreign countries, including Costa Rica, neighboring Canada and from as far away as Malaysia, Morocco, Hong Kong and Saudi Arabia.

"We also have admitted 1,407 students of color, compared to 1,106 who were admitted by the start of classes last fall," Hirsch said.

"In addition, we also are focusing on special talents and out-of-classroom accomplishments of students in the fields of music, athletics, theatre, art, leadership and community service, which contribute to diversity," he said.

More Delawareans have been accepted as well. To date, 1,842 Delaware students have been admitted to the Newark campus and another 489 to the Parallel Program, compared to last year to when 1,557 were admitted to the Newark campus and 333 to the Parallel Program.

UD's policy, Hirsch said, is to offer admission to all Delaware residents whose academic records predict success and indicate they can handle academic work. Those who are not accepted are encouraged to enroll at a community college to improve their academic skills and then re-apply as transfer students.

Statistics on the incoming freshman class are usually available in August. "Generally 35-37 percent of the students we admit will accept our offers of admission," Hirsh said.

Article by Sue Moncure