UDAILY is produced by the Office of Public Relations
150 South College Ave.
Newark, DE 19716-2701
(302) 831-2791

'WHYY Delaware Tonight' looks at Paul Jones Collection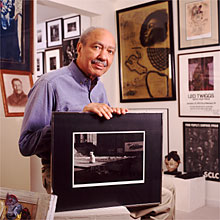 11:25 a.m., Nov. 11, 2002--"WHYY Delaware Tonight" plans to air a segment on the Paul R. Jones Collection at the University of Delaware, one of the world's premiere collections of works by African American artists, during its evening news program at 5:30 p.m., Monday, Nov. 11.
WHYY reporter Jennifer Turner was on campus Friday, Nov. 8, to interview Jones, UD President David P. Roselle and students from UD's Ronald E. McNair Post-Baccalaureate Achievement Program. During the summer, 22 McNair Scholars visited the collector in his Atlanta home.
WHYY-TV broadcasts on Channel 12.
To find out more on the Paul Jones Collection, visit the web site at
[http://www.udel.edu/PaulRJonesCollection/].