10:25 a.m., Nov. 15, 2002--Approximately 90 African-American and Latino students and their parents from Delaware, the Mid-Atlantic region and as far away as Texas, took part in the Student of Color Overnight Program at the University, Nov. 8-9.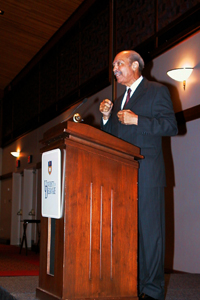 UD benefactor Paul Jones told prospective students their involvement would make a good university better.
The students checked into the Embassy Suites, where they were assigned roommates, and the program began with a reception and dinner for students and their parents at Clayton Hall. Many faculty and staff attended, and it was an excellent opportunity for students and parents to talk with them one-on-one, Ernesto Lopez, admissions counselor, said.
The highlight of the dinner was a talk by the keynote speaker, Paul R. Jones, UD benefactor, who has donated his large collection of works by African-American artists to the University.
During his talk, he told the audience about the Paul R. Jones Collection, the renovation of Mechanical Hall, which will house the art works, and the impact the collection could have on students, no matter what their majors or interests. He also discussed the links between UD and Spelman College, a historically black college in Atlanta.
Jones told the students that it was a time of change and decision-making for them. He encouraged the students to become involved in college with organizations and groups, telling them their involvement would make a good university better and a better university the best.
Afterward, Jones said he especially enjoyed meeting the students and their parents and talking with them individually about UD during the reception and dinner.
Dinner also featured talks from a current freshman, senior and recent graduate, who talked about their experiences as University students.
Parents and the high school seniors then split—parents to attend a panel discussion with three parents of current UD students, and the high school students to hear a panel discussion with 13 UD students. "It was an open forum and exchange," Lopez said.
Then it was fun time. Students attended a variety show at Bacchus, organized by Delta Sigma Theta sorority, followed by a dance party at the Trabant University Center, where the high school students were greeted and welcomed by UD students.
The overnight concluded on Saturday, Nov. 9, at the Blue and Golden Saturday Open House, sponsored by admissions for prospective students and their families.
"From the time they arrived until they left the next day, the high school students were involved in learning about UD and meeting faculty, staff and students. The feedback was excellent, and many who attended said they will apply to the University," Lopez said.
Some students and parents sent comments about the event. One student wrote, "I wanted to thank you for the wonderful weekend at the University of Delaware…. The overnight program and Blue and Golden Saturday allowed me to learn a lot about the University and also gave me many opportunities to ask questions I had."
A parent wrote, "Everyone we met made us feel at home. We saw very happy students and a gorgeous campus."
Another high school senior wrote, "I did not know what college I wanted to attend in the fall, but now I do…. I realize that U of D is the college that best fits me."
Article by Sue Moncure
Photos by Greg Drew