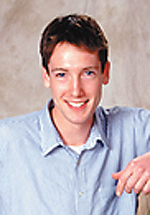 Rhodes Scholarships, the oldest international study awards available to American students, were established in 1902 by the estate of Cecil Rhodes, a British philanthropist. The scholarships provide two or three years of study at Oxford University in England. Kovara intends to do graduate work in Christian ethics at Oxford and take a summer course in international human rights law.
On Dec. 9, the scholarship trust announced 32 winners for 2002, selected from 925 applicants throughout the nation. Winners are selected on the basis of such qualities as high academic achievement, personal integrity, leadership potential and physical vigor, among others.
Other winners this year included students at Carnegie-Mellon, Dartmouth, Duke, Harvard, Princeton, Syracuse and Yale universities, the Massachusetts Institute of Technology, the U.S. Naval Academy and West Point.
Since learning of his honor, Kovara said he has been busy telling the many individuals who supported him throughout the interview process. "I received support and advice from more than a dozen people, and it's been important to me to contact them, let them know the outcome and thank them for the encouragement they offered me right up to the end," he said.
"The University has a support network that is very strong, with people who show a genuine interest in helping students, informing them of opportunities and then helping them make the most of them," he said. "That has made a world of difference."
Two of Kovara's good friends are also Rhodes recipients–Douglas Mauro de Lorenzo, UD's 1999 Rhodes Scholar, and Thomas M. Pellathy, UD's 2001 Rhodes Scholar. Both contacted him after finding out about his win through an informal Rhodes network, and "they were almost more excited about my winning than my parents," Kovara said.
Kovara is no stranger to national honors. In March of this year, he was one of 70 students from across the nation selected for the prestigious Truman Scholarship, which provided him with $3,000 for his senior year of college and $27,000 to apply toward graduate school. Truman Scholars also receive priority admission and supplemental financial aid at premier graduate institutions and have access to special internships within the federal government.
After high school, Kovara, the son of Jane and Jon Kovara of Flemington, N.J., applied to nine colleges—most of them small and private. UD was one of the few public institutions that attracted him, and when he was offered UD's prestigious DuPont Scholarship and admission to the University Honors Program, his decision was made.
"Once that offer was made, I just couldn't imagine going to one of the private schools and graduating $30,000 in debt. Having my education paid for would leave my options wide open after graduation," he explained.
UD's Rhodes Scholars
By becoming UD's 11th Rhodes Scholar, David A. Kovara continues a long line of academic excellence for which the University is noted.
UD Rhodes Scholars include:
Charles Bush, AS '03
Everett F. Warrington, AS '07
F. Bayard Carter, AS '20
G. Gray Carter, EG '22
Cornelius Tilghman Sr., AS '25
William H. Maguigan, AS '35
Anthony A. Sholl, AS '61
Leonard P. Stark, AS '91
Douglas de Lorenzo, AS '98
Thomas M. Pellathy, AS 2000, AS 2000M.
David A. Kovara, AS 2002, AS 2002M
"As it turned out, the resources here far exceeded those of the other places I was interested in, and the honors environment has been wonderful," he says.

After completing his freshman year and the fall semester of his sophomore year, Kovara found himself still undecided about a major and decided to take some time off to travel.

"It made no sense to burn through a university education in four years without a plan, a concentration," he said.

On a journey of self-discovery, he traveled to Greece and lived in a monastery for three months.

He and de Lorenzo then traveled to Africa, where they worked in an orphanage for children infected with HIV. Kovara then took a job with Doctors Without Borders and spearheaded a children's rights project in Kenya.

"Basically, there weren't a lot of legal options for abused children in Africa. My job was to recruit lawyers for what eventually became the Children's Legal Action Network (CLAN)," he said.

His travels inspired Kovara toward a career in theology and medicine and, through the Honors Program and with the aid of a Dean's Scholar proposal, he was able to structure a major for himself that integrated both interests.

But, when he learned of a little-known scholarship opportunity at UD that offers a year of study in German, wanderlust set in again.

He applied for and was granted an academic scholarship offered by the German American Federation that fully funded a year of study at one of 30 colleges and universities in Germany. Although he was far from fluent in the language, Kovara eagerly grabbed the opportunity and chose the University of Tubingen for its world-renowned theology program.

During an internship as a hospital chaplain, Kovara found that "all patients have a strong reaction when a priest enters a hospital room. They can be open to a visit, but they can also be defensive, nervous, excited. I realized that, as important as religion is in a hospital, it's important to keep the job of doctor and chaplain separate." He shelved his idea of combining religion and medicine and decided to concentrate on a medical career.

Meantime, in between finishing his year in Germany and returning to UD, he worked in Africa again, establishing a second chapter of CLAN in Uganda. He also created a web site for the African Network for the Prevention and Protection Against Child Abuse and Neglect that can be accessed at [www.anppcan.org].

That experience helped him explore children's rights in a medical context, and he realized how often children's rights issues crop up for organizations like Doctors Without Borders that strive to provide medical care in indigent areas. Kovara decided that his new career focus would not be medicine after all, but international human rights law with an emphasis on child rights.

After Oxford, he said he most likely will consider a full-fledged law program in the U.S., using his Truman Scholarship.

A former UD soccer player who lives with his sister and works at the Eagle Diner in Newark, Kovara said he considers Lawrence Duggan, UD professor of history, and his wife, Devon Miller Duggan, an adjunct professor with the Honors Program, as mentors and friends.

"The problem with trying to say something about David is that there is so much to say," Miller Duggan says. "Essentially, he's kind of radiant. He has an unusual combination of intellect and spirit. There's a sort of lightness to David. He has a wonderful combination–a really profound seriousness and great whimsy. It's very easy to see him changing the world."

Last summer, Kovara traveled to southern India, where he worked for an orphanage and medical clinic in a village outside Madras.

David A. Kovara, who will graduate from the University of Delaware in May with a bachelor's degree in philosophy and a master's degree in liberal studies, has been named a Rhodes Scholar, making him the fourth UD student to be so honored in the last 10 years, and the 11th Rhodes Scholar from UD since the program began.