Aug. 2, 2002--A group of students and administrators from UD's Ronald E. McNair Post-Baccalaureate Achievement Program recently journeyed to Atlanta, where they visited graduate school locations before being treated to a personally guided tour of the home of Atlanta art collector and UD benefactor Paul Jones, who also accompanied them to an exhibition of works from his collection at Georgia State University.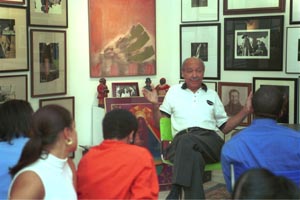 Art collector Paul R. Jones
The 22 students, accompanied by Maria Palacas, program director, and Kendra Fullwood, program coordinator, left Newark July 17 for the three-day program that began with a series of meetings at Emory University, Georgia Institute of Technology and Georgia State University, where the students explored research opportunities in such fields as political science, biomedical engineering, anthropology, sociology and computer science. Fullwood said visits to prospective research institutions are part of the McNair Program's strong commitment to make students familiar with all aspects of the graduate school experience.
"The professors were surprised that our students were already involved in the research experience," Fullwood said. UD has been nationally recognized for its efforts to incorporate research with faculty mentors into the undergraduate experience.
Highlighting the Atlanta visit was time spent in Jones's home, where he led a tour of his collection of African-American art, which was donated in 2001 to UD. A new home for the collection currently is being created on the Newark campus.
"The students were very humbled that a man of such resources and magnitude would extend them an invitation into his home," Fullwood said. "They asked him a lot of questions and were struck with his sincerity and his commitment to increase diversity in the field of art and art collecting.
"He was very eager to have the students explore his house and see his collection, which included prints, photos and portraits," Fullwood said.
Jones also accompanied the students on a tour of "Original Acts: Photographs of African-American Performers in the Paul R. Jones Collection," a traveling exhibition that originated at UD and was on view from July 17-27 at the Georgia State University School of Art and Design Galleries in Atlanta, in conjunction with the National Black Arts Festival in Atlanta.
The first major exhibition based on his collection since he donated it to UD in 2001, "Original Acts" debuted at the University Gallery from Feb. 5-March 28.
The exhibition next will travel to Delaware State University in Dover, where it will be on display from Aug. 26 through Nov. 26 in the Art Center/Gallery.
While visiting Atlanta, the students also appeared on "CNN Talkback Live" with guest host Miles O'Brien before returning to Newark on July 21.
Credit photos: Sheila Turner