11:45 a.m., Dec. 19, 2002-- MSNBC's "Hardball College Tour" with Chris Matthews will come to the University of Delaware on Wednesday, Jan. 15, with special guest U.S. Sen. Joseph R. Biden Jr. (D-Del.), a UD alumnus.

The telecast will be live from Mitchell Hall beginning at 9 p.m. The taping is free and open to the public, and doors will open at 7:30 p.m.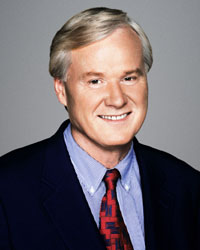 Chris Matthews
The "Hardball College Tour" pits current newsmakers one on one opposite the popular host. Questions from the audience also are encouraged.
After the telecast, UD senior Michael Bogucki of Wilmington will sit in the "Hardball Hotseat" for a one-on-one rapid-fire question and answer session with Matthews. At the end of the school year, "Hardball" will telecast a final tournament with the top 10 students from the dozens who have competed on the tour to determine a "Hardball Hotseat" winner. The final "Hardball Hotseat" winner will receive a $10,000 scholarship award, plus a $5,000 grant to their school.
"Hardball with Chris Matthews," MSNBC's popular Washington, D.C.-based series, travels to a different college each Wednesday, bringing top national figures to college campuses around the country. Previous stops on the tour have included Gov. Jesse Ventura at the University of Minnesota, John McCain at Fordham University, former New York City Mayor Rudy Giuliani at the University of Pennsylvania, Arnold Schwarzenegger at Chapman University, Hillary Clinton at the University of Albany and Al Gore at Lehman College.
Now in its fifth year, "Hardball with Chris Matthews" premiered on MSNBC in 1999, after a successful launch on CNBC in 1997. Last July, it became an exclusive series on MSNBC. "Hardball" airs daily at 9 p.m. on MSNBC, which is broadcast locally on Channel 56 of the Comcast Cable System.
A frequent contributor to NBC's "Today" and a regular substitute anchor on NBC's "Weekend Today," Matthews has had a distinguished career as a journalist, and he was a nationally syndicated columnist for the San Francisco Chronicle for two years. His background also includes stints as a Washington bureau chief, presidential speechwriter, congressional staff and best-selling author. He has twice received The Washington Post's "Crystal Ball" award for his successful predictions of U.S. presidential elections. He is the author of four books, "Hardball," "Kennedy & Nixon," "Now Let Me Tell You What I Really Think" and most recently "American: Beyond Our Grandest Notions."
A 1965 UD graduate, Biden has served in the U.S. Senate since 1972. He chairs both the Senate Foreign Relations Committee and the Judiciary Subcommittee on Crime and Drugs.