July 16, 2002--After a UD taskforce visited five other college libraries, exchanged 1,598 e-mails, held 117 meetings, set up 207 training sessions and conducted multiple testings, the new web-based DELCAT catalog at the University Library was implemented July 1—right on schedule.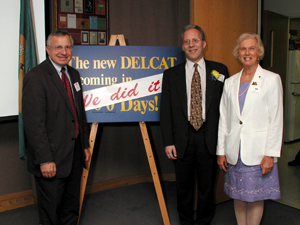 Acting provost Dan Rich, Gregg Silvis and Susan Brynteson pose by the sign that counted down unitl the start of the new Delcat.
More than 120 library and information technology staff members joined nine days later with library and University administrators
to celebrate the successful implementation of the newest online catalog. "The future has arrived and it was right on schedule," Susan Brynteson, May Morris Director of Libraries, said, noting that the implementation task force was created in August 2001.
The new web version of DELCAT is accessible at [http://www.lib.udel.edu] or directly at [http://delcat.udel.edu]. Microsoft Internet Explorer version 5.5 or Netscape 6.0 are the web browsers that work most effectively with the new DELCAT.
Assistant director for library computing systems, Gregg Silvis, who directed the project, said "The successful on-time implementation of the new DELCAT was due in no small part to the great efforts of all the library and information technologies staff involved in the project."
According to Sandra Millard, assistant director for library public services, the new DELCAT includes links to electronic journals and cataloged Internet resources and will provide new features such as online book renewal and new ways of searching. "Library users will be able to search DELCAT directly from the library website," she said.
Brynteson noted that the original DELCAT, which was set up in 1986, had changed over the last16 years, going from card catalogs to a completely online system and providing access to thousands of electronic journals.
"But people were hungry for the new DELCAT, and we were punctual in providing it," Brynteson said.
Individuals recognized at the reception for their work on reviewing and implementing the new system included Millard and Silvis; Nicholas Chiarkas, head of the library systems support department; Dan Grim, executive director of network and systems services; Madeleine Masso, library CITA programmer and analyst; Nancy Nelson, head of the library access services department; Deborah Rae, head of the library bibliographic control department; and Josephine Williamson, head of the library acquisitions department.
The new DELCAT is based on Ex Libris software, which also was recently installed at the libraries of the Massachusetts Institute of Technology and Harvard University.