Oct. 3, 2002--The exhibition "Original Acts: Photographs of African-American Performers in the Paul R. Jones Collection" continues to travel after its successful debut at the University of Delaware earlier this year.
The latest stop for the exhibition is Delaware State University in Dover, and a reception attended by Jones and collection curator Amalia Amaki was held Wednesday, Oct. 2, in the Arts Center/Gallery in the William C. Jason Library.
"Original Acts," the first major exhibition based on the Paul R. Jones Collection since it was donated to the University of Delaware in February 2001, ran Feb. 5 through March 28 at the University Gallery before traveling to Georgia State University in Atlanta.
The show will run through Nov. 26 at DSU. About a third of the show will then be displayed at Grace United Methodist Church in Wilmington from Feb. 3-28, with opening events set Friday, Feb. 7, and Sunday, Feb. 9. Future stops for the exhibit including Brenau University in Gainesville, Ga., in the fall of 2004.
During the Wednesday evening reception, Jones recounted his early experiences with collecting, a life's passion that began in the mid-1960s when he purchased three prints on an Atlanta street corner, stained his own frames and mounted the works on his walls.
"I decided that if I was serious about collecting, I needed to focus on original work," he said. "I looked around at museums and galleries and found that very few were focusing on African-American art and I decided to go in that direction."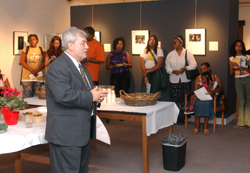 Donald A. Parks, director of the Arts Center/Gallery at Delaware State University
His success in building one of the nation's largest collections of African-American art, with more than 1,500 pieces, shows that "art is within the means of everyone," Jones, a retired federal administrator, said. "You don't have to be a Rockefeller or a Mellon to collect."
Jones said he has made it a point to share his art with the public over the years. "As a result, the art has taken a little bit of banging, but in the end, it was worth it," he said. "I wanted to whet the appetite of others to collect."
It is his vision, Jones said, that the collection will spur collaborations between the University of Delaware and the nation's historically black colleges and universities. The show at DSU, he said, is one such example.
"In giving the collection to the University of Delaware, I give it to all of you," he said, encouraging the DSU students, faculty and staff in attendance to continue to create and collect art.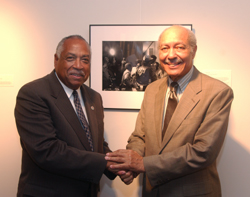 Collector Paul R. Jones (right) and William B. DeLauder, president of Delaware State University
Jones praised DSU President William B. DeLauder, who supported creation of the campus gallery, calling the gallery "a living testament to his love and support of the arts."
"Original Acts" presents the work of 19 African-American photographers who have captured images of African-American performance in dance, theatre and music from the 1930s to the present.
Works selected for the show include photographs of Miles Davis, Duke Ellington, Ella Fitzgerald, Stevie Wonder, Morgan Freeman, Denzel Washington and others.
Photographers whose work is featured include Prentice Herman (P.H.) Polk, James Van Der Zee, William Crite, Bert Andrews, Jim Alexander, Shelia Turner, Adger W. Cowans and Frank Stewart.
Article by Neil Thomas
Photos by Kathy Flickinger